U-37's Jean Theoret: "It's an unfair way to race"
Posted:
Updated: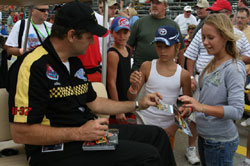 Photo: Jim Simpson
It was a tough weekend for defending Gold Cup champion Jean Theoret, who jumped the gun in one heat to finish third, finish fourth in two other heats, and didn't make the 7 boat final.
In Heat 3B at Detroit, Jean Theoret in the U-37 Beacon Plumbing was in lane one trying to hold off Mike Allen in the U-1 FormulaBoats.com boat. Just ahead was Dave Villwock in the U-16 Ellstrom Elam Plus.
Coming out of the roostertail turn, Theoret got caught in the wash from the U-16 and took out a buoy and went dead. He got it re-started, but was way too far back to do anything. Theroret finished 4th in the heat and didn't make the finals.
"The boat's running really good," said Villwock about his third heat win today. "We let it all hang out (during Heat 3B)."
But an unhappy Jean Theoret said Villwock pinned him in the corner causing him to clip the buoy. "It's an unfair way to race," he said. It wasn't the first time Theoret had complained about Villwock's racing techniques. He had talked about Villwock "washing him down" earlier in the season.
"Officiating has to change. Someone's going to get hurt that way," he said.



Watch video of Heat 3B incident - Click link and push start button to play.
Did Villwock pin Theoret in the corner unfairly? Take the poll.
The roostertail turn is the tightest turn on the circuit. "We couldn't put our nose into the roostertail turn first. If you can't do that, you let someone else determine where you go," said Theoret. In this case, that someone else was Villwock, who was first in the turn.
It wasn't the only time someone pinched the turn keeping other drivers at bay. Steve David in the U-6 Oh Boy! Oberto did it to U-3 Chrysler-Jeep driver Jimmy King in one heat, keeping him tight in the short turn and forcing him wide in the big turn. David won that heat. King returned the favor in a later heat, edging out David for the win. At times, King and David were less than 15 apart.