Troopers Start Carrying Tasers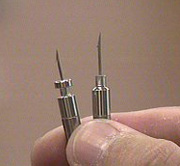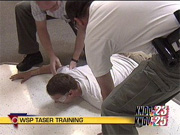 BURBANK, Wash.- Starting this week, area State Troopers start carrying tasers.
Troopers from the Tri-Cities and Walla Walla started training Thursday.
As controversial as tasers have become in recent years, they actually rank below common things like night-sticks on the level of force continuum police use, and they're an easy way to demobilize suspects with little after effects.
Five hours of classroom time and three hours of hands on training aren't enough for State Troopers to start carrying a taser on the road.
One piece of the puzzle is still missing; troopers still have to get zapped.
"I always say it's intense, it's an intense experience. As far as to how to actually describe it, I don't know what words accurately do," said Trooper Mark Tegard.
Two small prongs as much as half an inch long stick into your body, and though it hurts, compared to the 16 amps running through a normal wall outlet, the 0.7 amps in a taser are fairly minimal.
"People are worried about it around water, worried about the voltage levels of a taser and comparing it to other things to show that it's really a safe level to use," said Trooper Steve Shiflett.
"We have the taser and just saying that we're going to use it, it's only one-third of the time that we actually have to resort to actually using it, so, it's actually working very good just having it, and not having to use it," Tegard said.
Recovery is fast, and though the shock hurts, there's very little residual pain.
The electrical signal pulses 17 times-a-second, that means in the three seconds they zapped a person, my muscles contracted and released about 51 times.
West Richland Police are the only other local agency carrying tasers, but the Richland Police Department hopes to start carrying the tools this fall.