By Evan Grant
Selig's impact goes beyond presence at record-breaker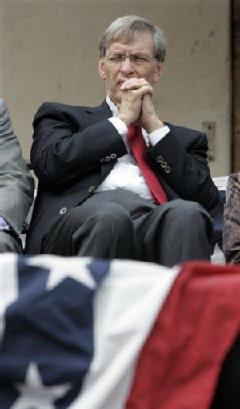 MLB's commissioner does not always exude grace, but his accomplishments stand on their own.
OAKLAND, Calif. --
I come today not to bury Bud Selig, but to praise him. Understand that's not often a popular stance because the commissioner of baseball often looks a little disheveled, maybe a little disoriented and when he speaks, just every once in a while, he tends to ramble.
APMLB's commissioner does not always exude grace, but his accomplishments stand on their own.And in the next couple of weeks, he's liable to get tarred and feathered regularly. He's not yet disclosed whether he will attend games where Barry Bonds has a chance to break Hank Aaron's all-time home run record and, whenever he does, ultimately the decision will popularly be viewed as wrong. If he goes, he'll be recognizing Bonds as the legitimate new home run champ, despite all the speculation and what some people might call evidence that Bonds used illegal steroids. If he stays home, he'll be snubbing the new home run champ. Poking fun at Selig just seems to easy. And the more I think about it, it's wrong, too. For all his foibles, wind-blown hair, confused looks and run-on sentences, Selig is the best commissioner in any professional sport. He is an innovator, a facilitator and a consensus-builder. So before the Bud-bashing reaches record levels, let's pause for a moment to consider some of the innovation he's brought to the game. [Special note to Bay Area residents: You may want to pay close attention since it is you who seem to hold the commissioner in especially low regard.] And here we go:
The wild card: Nothing has rejuvenated late-season interest in the game as much as the wild card raced and the attention that goes along with it. Consider that the Boston Red Sox, LA Angels and Florida Marlins all owe world championships to the concept that made its debut in 1995. The Houston Astros owe their only World Series appearance to it. The wild card takes mundane races and makes them interesting. It raises the level of the Red Sox-Yankees rivalry from regional skirmish to national phenomena. With 2 ½ months to go in the season, four AL teams are still within 10 games of leader Cleveland; in the NL, there are nine teams within 10 games. It is great for building drama and interest.
Labor peace: From inauspicious beginnings (anyone remember Selig calling off the 1994 World Series?) he has now negotiated consecutive collective bargaining agreements. He's set the stage for the longest stretch of labor peace since the Players Association rose to prominence in the early 1970s. He's shown a willingness to do something no other commissioner was willing to do: Work alongside the Players Association to make the business more rewarding for all involved.
Drug policy: Sure, maybe he didn't look so good on Capitol Hill, but Selig has gotten the union to twice give on drug-testing policies. Maybe baseball's steroid policy is "laughable," by Olympic standards. Maybe. But it's a step. And if you are looking for signs of 'roid rage or other disturbing patters of behavior, better you should look at some other leagues. Can't remember the last time baseball had a Pac-Man Jones-type of situation to deal with.
Revenue sharing: Baseball is far too capitalistic a society to have a salary cap, but Selig's ability to implement revenue sharing and a luxury tax has created the atmosphere to give the "have-nots" a little more leeway to compete with their richer brethren. Now, what he must do is convince some of those "have-nots" to stop pocketing all the revenue-sharing money and use it to improve their clubs. A salary cap may not be possible, but a salary floor would be a good step.
Interleague play: Actually, if there is an innovation for which Selig usually gets credit, it's interleague play. And if there is a change he's made to the game that's had less positive impact than anything else, it's actually interleague play. The idea was a great novelty for five or six years and, in some places, it really works. But for those clubs that have no real natural rival, there are some really unattractive series. In addition, the necessary staggering of the schedule because of those natural rivals makes for some competitive imbalance. Not fair if one team plays Detroit as its AL Central foe while another gets Kansas City. It will probably never be a perfect system, but there are some tweaks that could be made along the way to keep it interesting. Start by switching up the styles of play: Play NL ball in AL parks and vice-versa. So, in the next couple of weeks, when you see Selig and immediately move to boo him, stop for a second and consider: All in all, he's done a fine job at his job.

For more sports coverage, visit
NBCSports.com