The Great Hardwood Debate: Worst max deal ever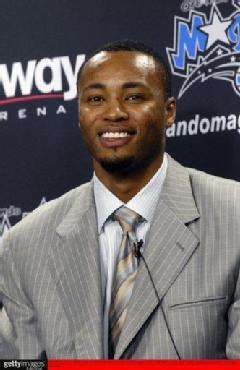 Fernando Medina/NBAE via Getty Images
Basketball fans of the world, welcome back to
The Great Hardwood Debate
. Each week (though a little less frequently in the offseason), our panel of NBA experts convenes to discuss a hot-button topic on the minds of NBA fans around the globe. This week, with Rashard Lewis' newest $113 million still fresh in our minds, we're talking about max contracts -- specifically the horrid ones. Every year at least one free agent contract or extension is given out that makes fans and executives cringe just a season or two later. With Lewis' contract already being judged as potentially one of the worst in the history of NBA free agency, we want to know:
"What is the worst NBA max contract ever given out?"
"Dr. A" Steve Alexander, Rotoworld
Yes. As of now, Rashard Lewis gets the nod for worst max contract ever, although it's not fair until we see how the Magic play this year. Allan Houston and Stephon Marbury's max contracts are tough to beat, but Lewis is a one-dimensional player who doesn't do much other than score. Maybe he'll take his game to the next level in Orlando, but it's tough for great players to live up to the hype of a max deal, let alone a mediocre NBA scorer.
When you add in the fact that some much bigger names will be available next summer, you have to think the Magic would have been better off re-signing Darko Milicic and waiting until next season to land a big gun.
That said, we can't bash the Magic's move until we see how Lewis bonds with Jameer Nelson, Dwight Howard and Stan Van Gundy, but on the surface, it appears he got about $50 million too much to go play for the Magic.


Matt Stroup, NBCSports.com
Wow, this is a difficult one. There are just so many dreadful contracts to choose from. But the one deal that seems to reek a tad bit more than all the worst is the six-year, $65 million one that Vancouver gave to Big Country (Bryant Reeves) in 1997.
Granted, his first three NBA seasons were pretty solid: 13.3 ppg, 7.4 rpg in '95-'96, 16.2 and 8.1 in '96-'97 and 16.3 and 7.9 in '97-'98. But if there is a cardinal rule in pro basketball, it's that you do not give 65 million dollars to a man who looks like he spends the offseason hibernating with grizzlies in the Alaskan Outback. Actually, no such rule exists, but there is a rule about giving massive contracts to guys with back problems, and this one came back to haunt the Grizzlies (not the ones that Reeves lived with) in a massive way.
Beginning with the '98-'99 season (the year Reeves' massive extension kicked in), his numbers (and games played) plummeted into an abyss. After appearing in only 25 games that season (and averaging 10.8 ppg and 5.5 rpg), Reeves never returned to his pre-extension form. Much of that had to do with injuries, but even at peak production the man wasn't exactly the pinnacle of physical fitness (even if he did once shatter a backboard while he was at Oklahoma State). Reeves retired after the 2000-'01 season, and his contract traveled from Vancouver to Memphis, staying on the Grizzlies' books through 2003-'04. A true disaster in modern sports salary management.


Tim Woitkun, NBCSports.com
The NBA is a league full of overpaid athletes, but none more so than the list of maximum contract players. While the league has one of the more strict salary caps in all of sports, there is money being thrown around these days as though it grows on trees. I have two finalists for the worst maximum contract players, Stephon Marbury and Ben Wallace, but I am forced to only select one. Without further adieu I present the NBA's worst maximum contract award to, Wallace.
What he brings to a team cannot be measured through the stat sheet although one would think that would aid in gaining a maximum contract. Through the first ten years of his career he has never averaged more than 10 point per game and only averaged more than nine points twice, in the '03-04 and '04-05 seasons. He does bring an intimidating force into the paint when he is on the floor, but does defense alone warrant a maximum contract?
They say defense wins championships and I am a firm believer in that statement. However, you need to play good team defense in the NBA, one player alone cannot make up for the rest of his team's shortcomings on that end of the floor. Arguably the league's best defender, Bruce Bowen, only made $3.75 million this past season. Night in and night out he is forced to match up against the league's elite scorers and is expected to keep them in check.
Big Ben is a solid player who can no doubt be a good role player at best en route to a deep playoff run, but he wasn't worthy of a max contract last season. The Bulls had money to burn last year, $16 million and change, and spent it all on Wallace (they had a remaining $2.7M left after they secured him). The team had a solid core of youth already infused into their roster and while he added a veteran presence last season, he doesn't appear to be the missing piece to get them into the Finals on a consistent basis.


Rich Zuckerman, NBCSports.com
While at least 5-10 awful contracts seem to be handed out an a yearly basis in today's NBA, the max deal that still stands out in my mind as the most dreadful of all was Allan Houston's six-year, $100 million deal with the Knicks following the 2000-01 season.
The absurdity of Houston's contract is certainly no reflection on the player he was. Houston was one of the NBA's best pure shooters of the past 20 years and teamed with Latrell Sprewell to lead a clearly undermanned Knicks squad on a Cinderella run to the 1999 NBA Finals. But he was a one-dimensional player as a shooter. He never distinguished himself as a rebounder or playmaker in the offense, and Houston's shortcomings on the defensive end were certainly no secret. Generally speaking, a max contract player should be one who elevates his team in multiple facets of the game. Houston did not come close to fitting that description.
Then, there are the financial implications that Houston's deal had on the Knicks. Combined with the ill-advised trade of franchise center Patrick Ewing the year prior, Houston's contract thrust the Knicks into the salary cap hell in which they currently reside some six years later, with no end in sight. The NBA even created a new rule designed to help teams circumvent the luxury tax, specifically for the purpose of providing the Knicks some relief from Houston's contract (which the Knicks, of course, instead used on Jerome Williams' far less cap-inhibiting deal).
However, if you need undeniable proof of Allan Houston holding the worst max contract of all-time, then just know this -- Houston, who retired at the start of the 2005-06 season, was the NBA's second-highest paid player the past two seasons despite never once stepping foot on the court.
For more sports coverage, visit NBCSports.com