It's Hydro Week in the Tri-Cities: What you need to know if you haven't been following Unlimited Hydroplane racing this season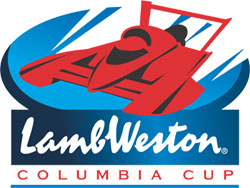 Coming into Hydro Week in the Tri-Cities, saying Villwock's the odds-on favorite is a no brainer. He's won 11 out of 12 race he's been in this year and three championship cups at Evansville, Madison and Detroit.



Read more about results from: Evansville - Madison - Detroit
He's also won the last three years in the Tri-Cities in both the Elam Plus and the Miss Budweiser. In 2006, he flipped 260 degrees in Heat 2A in Tri-Cities. His crew was able to patch the boat back together. Villwock came back to win the final race.


Pictures and Video of Villwock's 2006 Flip >>
But it won't be easy for Villwock. Steve David has a brand new U-6 Oh Boy! Oberto/Miss Madison hydroplane and he's run faster every time out. David's the only driver to beat Villwock in a heat race this year. David won three straight heat races in Madison and he's finished second to Villwock in the finals twice this year.


U-6 Hydro: One hot machine >>
When Jimmy King has been able to keep the U-3 Chrysler Jeep piston boat up and running, he's had some serious speed. In fact, a duel between David and King in Detroit finished with both boats averaging more than 151 mph.


Watch video of the Detroit race >>
Jean Theoret in the U-37 Beacon Plumbing has had an erratic start this year. But he's capable of pulling the upset at any time.
U-1 Mike Allen out
Last year's rookie of the year Mike Allen will not be racing in the Tri-Cities. Allen was the driver of the FormulaBoats.com hydroplane last year when it won National Team High Points champion to earn the U-1 designation. He already had six screws in his wrist and thumb from an accident earlier in the year when he flipped the boat in Detroit.


Photo slideshow and video of U-1 flip >>
The boat won't be ready to race either. But team owner Ted Porter has called up the team's back-up boat and a fill-in driver, 21 year old Jimmy Shane, to keep two boats on the water.
Coming Out Party
It will be the coming out party for three boats: The U-21 Freedom Racing boat will make its debut in Tri-Cities. It's a brand new boat with a brand new driver.
The U-21 burned up in Seattle last year. Driver Kevin Aylesworth stepped aside to let Brian Perkins drive. The boat's been under construction and hasn't been completed until now. And it's been tight. A scheduled practice run in the U-21's home base near San Diego had to be canceled.


U-21 latest >>
It's also the first race for the U-48 and driver David Williams. Williams is the curator of the Hydroplane Museum in Kent, Washington and was in the Tri-Cities for practice runs in June. It's the first time the boat will race this year.


U-48 Unveiled >>
Nate Brown returns to the Tri-Cities with the U-17 Our Gang Racing boat. It's a brand new boat Brown and his team built from scratch. This is the first time it will hit the water.


Our Gang Racing: A different team >>
Rookie Drivers
There are four rookie drivers for the Tri-Cities races. Brian Perkins has never driven an unlimited hydroplane before. He's the driver for the U-21.


Read more about Brian Perkins >>
21-year old Jimmy Shane is filling in for Mike Allen in the U-1. He's taken a few practice laps in an unlimited.


Read more about Jimmy Shane >>
Jeff Bernard has three races under his belt this year. He's driving the U-5 FormulaBoats.com.


Read more about Jeff Bernard >>
And David Bryant will be behind-the-wheel of the U-10 USA Racing Partners hydroplane. Bryant and his team had to miss Detroit after mechanical problems sidelined them in Madison. But the boat's fixed and ready to go now.


Read more about David Bryant >>
You might technically call David Williams a rookie, but he's had more seat time than many of the other drivers. Williams drove one heat race for Ken Muscatel in the U-2.25 last year.


Read more about David Williams >>
Tentative Boat Line-up
#
U-1

NAME
Formulaboats.com
DRIVER
Jimmy Shane
U-3
Hoss Mortgage Investors II Presents Ronald McDonald House
Jimmy King
U-5
Formulaboats.com
Jeff Bernard
U-6
Oh Boy! Oberto
Steve David
U-9
Miss Conover Insurance
Chris Bertram
U-10
Miss Ahern Equipment Rentals
David Bryant
U-13
Spirit of Detroit
J. Michael Kelly
U-16
Ellstrom's Elam
Dave Villwock
U-17
Miss Red Dot
Nate Brown
U-21
Meyers' Auto Tech
Brian Perkins
U-25
Superior Racing
Dr. Ken Muscatel
U-37
Miss Beacon Plumbing
Jean Theoret
U-48
Miss Lakeridge Paving
David Williams
U-100
Mirageboats.com
Greg Hopp
Vintage Boats
Scheduled to appear at the Tri-Cities Water Follies are:
U-40 1962 Miss Bardahl
1955 Miss Thriftway replica
1960 Miss Burien
1975 Oh Boy! Oberto
TV and Internet Coverage

Friday: 5pm - Vintage Boats race and Dash fort Cash
Friday: 6:30pm - Special Half Hour program on Hydroplane Racing
Sunday: 10am-5pm Full day of racing action
KNDO-TV in Yakima, KNDU-TV in Tri-Cities, Live Streaming on HydoInsider.com