One driver dominates despite increased competition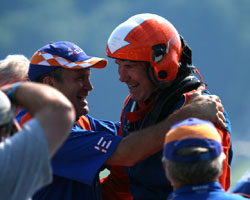 Photos - Jim Simpson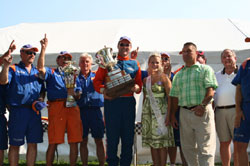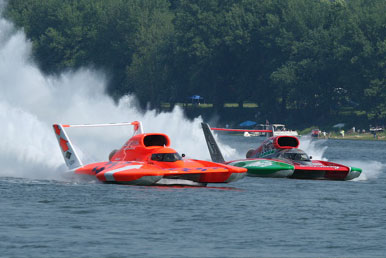 Before the season began, all the talk was about the increased competition ...
"It will be one of the most competitive season the sport's ever seen," said American Boat Racing Association Chairman Sam Cole. "We've never had such equally matched boats in the history of the sport."

"It will be even more competitive than last year," said U-37 Beacon Plumbing driver Jean Theoret.

"There are six or seven boats that can win," said U-6 Oh Boy! Oberto / Miss Madison drive Steve David.

Dave Villwock, driver of the U-16 Ellstrom Elam Plus, said "new boats, faster boats, more competition."

"The best year of competition this sport has ever seen, " said Muscatel, "from top to bottom."
... But when the season began, it was one man and one boat that would dominate.
Dave Villwock in the U-16 Ellstrom Elam Plus has been on a hot streak. He won three straight heat races in Evansville, then won the final there. He won two of three heats in Madison and the final. In Detroit, it was another clean sweep: three heat wins and the Gold Cup.
Villwock's got 54 career victories and more wins than any other active driver. Now, he's closing in on the all-time win leaders. Bill Muncey has 62; Chip Hanauer has 61.
Villwock's won in every boat he's driven. Before the U-16 Elam, he drove the Miss Budweiser to victory after victory. Despite new rules put in place to limit the Bud's winning streak, Villwock still managed to win. And he's doing it now with his new ride, the Ellstrom Elam Plus.
But Villwock's not universally loved. No other driver has as large of a share of critics. One of the popular rumors is that Villwock and his team has figured out a way to fool the on-board computers that monitor fuel flow. They said the same thing when he drove for Budweiser. But it's never been more than a rumor.
On an internet message board popular with hard-core hydroplane racing fans, the results of a recent poll show you how some people feel about Villwock.
| | |
| --- | --- |
| 34% | One of the best drivers of all time |
| 28% | A great engineer who gets to drive unlimiteds |
| 22% | A tool |
| 8% | A mediocre driver in the best boat |
| 7% | The nicest guy I ever met |
When you're the winningest active unlimited driver and 30% call you either a medicore driver or a tool, you know there's some animosity among fans. But that's not unusual in any sport - especially motor sports. Some of the best drivers in NASCAR history also have their share of detractors.
Still, you've got to give the man his props. He's won consistently over the years in different boats with different crews. And he's poised to break the all-time career records of legendary drivers. When it's all over, Dave Villwock may well have more wins than any driver in Unlimited Hydroplane racing history. How can you not say he's one of the best - if not the very best - of all time.