By Alan Abrahamson
With camp ban, Goodell shows his strength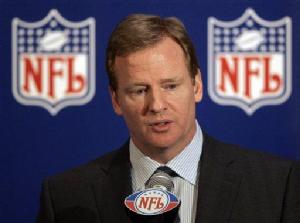 AP - NFL commissioner Roger Goodell deserves credit for tackling the developing issues around the league.
NFL commissioner Roger Goodell gets it. And how. Goodell on Monday ordered Michael Vick to stay out of Atlanta Falcons' training camp until the NFL reviews the dogfighting case brought last week against Vick by federal prosecutors in Virginia.
Good for Goodell. That's the right decision -- absolutely, unequivocally, indisputably.
The next decision, after the league's review is completed -- "as soon as possible," according to the NFL's release -- ought to be to see Vick suspended indefinitely, by either the Falcons or the league.
Vick is presumed innocent until proven guilty. But this isn't about whether he's convicted, or sees prison time or not.
It's about the privilege of playing in the NFL -- a privilege Vick has abused by the heinous conduct alleged in that indictment.
The league's release notes, pointedly, that Vick's "full cooperation is expected" in connection with the league's review.
The words are clear, and so is the message: Goodell is in charge.
And ask yourself: isn't this proof that Goodell is already, after being commissioner for just under a year, the most powerful figure in all of American sports?
It's so refreshing to see a sports executive unafraid to make a decision.
It's a quality that is completely underrated. Yet here's Goodell -- who has already moved to suspend Adam "Pacman" Jones of the Tennessee Titans, the Cincinnati Bengals' Chris Henry and, as well, Tank Johnson, formerly of the Chicago Bears, citing a succession of run-ins with the law.
In so doing, Goodell has also shown a keen understanding of how much damage athletes' legal problems can hurt the NFL brand as well as what I think is one of the most potent of currents emerging in our society.
My sense is that decent people all around this country are just fed up -- tired of seeing athletes flout the law, tired of hearing about the latest report of some millionaire brat with an inflated sense of entitlement alleged to have done something stupid or disorderly or outright criminal.
Compare the way Goodell looks today with the commissioners of the other major sports.
David Stern? The NBA commissioner, confronted with an FBI investigation into former referee Tim Donaghy, now has to deal with a direct threat to the integrity of the league -- arguably the NBA's biggest scandal ever.
Gary Bettman? Please. The NHL lost an entire season under his watch and now high-school football outdraws pro hockey on TV. Someone explain to me again how that's leadership.
Bud Selig? He's in Milwaukee but not in San Francisco for the Barry Bonds' home run saga? For that matter, what about Bonds? Who believes that Bonds hit every single one of those home runs without performance-enhancing drugs? And Selig has, in response, done -- what?
So, again, kudos.
For more sports coverage, visit NBCSports.com