Atlantans' civic pride taking a hit thanks to Vick
Posted:
Updated: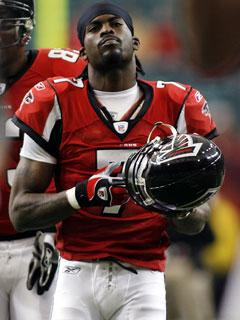 ATLANTA --
Roger Goodell handed the Falcons three Advil on Monday, banning the walking headache known as Mike Vick (or Ookie) from participating in Falcons training camp. "While it is for the criminal justice system to determine your guilt or innocence, it is my responsibility as commissioner of the National Football League to determine whether your conduct, even if not criminal, nonetheless violated league policies, including the Personal Conduct Policy," Goodell said in a letter sent to Vick.
It's the first step beyond rhetoric from the league and it doesn't figure to be the last. The Heisman pose is being extended to Vick now as the league realizes that a wall-to-wall frenzy of Vick coverage will trump all talk of, you know, football as training camps open this week.
When does the next domino fall?
Check out this announcement e-mailed Monday night.
"The Atlanta Falcons will hold a news conference tomorrow at 4:00 p.m. at the Arthur M. Blank Family Office Grand Salon. Owner & CEO Arthur M. Blank will be available."
It should be an interesting gathering.
Banishing Vick from camp allows new head coach Bobby Petrino (who must be yearning for the days of missed classes and PO'd Louisville professors right about now) to wash his hands of the Vick mess until further notice.
While the Vick camp has been tellingly quiet (too quiet) since a federal indictment was handed down last week, folks in and around Atlanta aren't.
"They had 4,000 people from PETA protesting all day today outside training camp (in Flowery Branch, Georgia)," said Melissa, a bartender at Bahama Breeze, a bar in suburban Atlanta. "I really found it scary and slightly disgusting that they were not taking him out of training camp until this was resolved. With the amount of evidence that they have, Nike should have pulled him first of all and he should have been removed from the Falcons until it's resolved."
Gordon Harper, a 56-year-old Atlanta resident and former Falcons season ticket holder said, "It's not the way you want someone to represent your franchise and your community."
But Harper has a memory long enough to summon up other unseemly incidents involving NFL athletes.
"I'm still upset about the Baltimore linebacker (Ray Lewis) that was part of something that left two men dead in the street," said Harper, recalling the post-Super Bowl killing of two men outside Atlanta's Cobalt Club after the 1999 Super Bowl. "That was men, this is dogs."
That statement illustrates the challenge Goodell faces. The public's memory is long and Vick is merely the latest gory and well-publicized incident that the most successful pro sports brand in America is dealing with thanks to one of its employees.
Given Goodell's track record since taking over as commissioner, it's no surprise he made a move to circumvent the Vick sideshow before camp opened.
And, while Blank's statements to date have steered clear of being sympathetic to Vick, Goodell made it possible Monday for Blank and the Falcons to stay somewhat above the fray. Had Blank -- who's been a Vick enabler for too long -- banned Vick, it would have made things dicey between player and ownership going forward.
Goodell did Blank a favor.
Meanwhile, the Atlanta community isn't unanimous in its opinion on how the Vick situation should be handled
Melissa, who didn't want her last name used, said Vick, "Comes to our establishment quite frequently" and that she's never had a problem with him.
"It's a divide," she said of public opinion. "A lot of people think he's innocent until all the evidence is there. At the same time a lot of people are really outraged."
Is it a civic embarrassment, she was asked.
"I don't think so. It's in the spotlight for Atlanta but it would have a greater effect if he was from Atlanta or the University of Georgia or Georgia Tech. But it is hitting us in the heart."
For more sports coverage, visit NBCSports.com.