By Tony Massarotti
As trade deadline nears, major names could change uniforms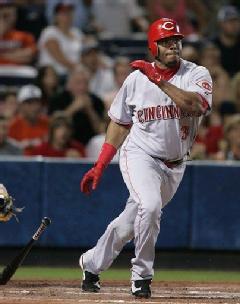 AP - Ken Griffey could be on the way back to Seattle, or shipped to another contender.
The annual major league trading deadline is roughly a week away, and still the 30 major league teams are playing poker. The price is too low or the price is too high, though all of that is about the change in the next several days. Or there will be no deals at all.
Of course, at this time of year in baseball, somebody always gets traded. It's just a question of whom. And while many big deals never come to fruition, here is a look at five notable players who could get dealt:
1. Ken Griffey, OF, Cincinnati Reds
When Junior was traded the first time, between the 1999 and 2000 seasons, it was national news. Now Junior is approaching his 38th birthday and is regarded as more of a role player than a centerpiece, but there may be no more appealing player available as the July 31 deadline nears. What contender wouldn't want to add a gifted outfielder with 24 home runs and 65 RBI?
Of course, there is a slight catch. Griffey is signed through next year at a $12.5 million salary with a $4 million buyout on his option for 2009. He has a long injury history and would love to return to Seattle. All of that reduces the market for him.
2. Eric Gagne, RP, Texas Rangers
Over the winter, of course, many of us thought the Rangers were crazy. Since the end of the 2004 season, Gagne entered this year having pitched 15.1 innings. His contract seemed like another foolish investment for a Texas club that was short on starting pitching and was trying to win by fortifying its bullpen.
As it turns out, Gagne looks like he could be perhaps the best pitcher to change uniforms at the trading deadline. In his first 31 appearances this year, he is 2-0 with a 1.48 ERA and 14 saves. Naturally, he wants to close if and when he is traded somewhere.
Cleveland? Philadelphia? Detroit?
3. Jermaine Dye, OF, Chicago White Sox
After signing Mark Buehrle to a contract extension, Chicago GM Kenny Williams recently noted that Dye seemed withdrawn. After all, Dye, too, is a free agent at the end of the year, though it seems highly unlike that the White Sox will sign him before then. As a result, bet on him being dealt.
With a base salary of just $6.75 million, Dye is extremely affordable and a short-term fix -- the ultimate hired gun. And while he is batting just .227, he is batting .310 with a 1.060 OPS since the All-Star break. Among those who need a bat and may pursue Griffey and/or Dye: Boston, the Los Angeles Dodgers and the New York Mets.
4. Brad Lidge, RP, Houston Astros
Once one of the most dominating closers in baseball, Lidge's stock has dipped considerably since the 2005 postseason. So why would teams be interested in him? Because Lidge also has proven to be a dominating set-up man, which could be invaluable to some clubs. Among them: The New York Yankees, who have Mariano Rivera but need help in the late innings.
For this year, at least, Lidge is cheap -- he has only a prorated portion of his $5.35 million salary available, though he is eligible for arbitration. After the 2008 season, he can become a free agent, assuming a club is willing top go to arbitration with him in the first place. And what if he proves to be a bust down the stretch?
5. Dontrelle Willis, SP, Florida Marlins
On the one hand, through arbitration, he is due for an increase from his current $6.45 million salary, which means that the cash-strapped Marlins eventually will have to part with him. On the other, Florida would have benefited far more by dealing him after the 2005 season, when Willis finished second in the National League Cy Young Award balloting.
Over the last two seasons, in case anyone hasn't noticed, Willis is 19-21 with a relatively mediocre 4.31 ERA. Of course, any team dealing for him also will get a supremely talented left-hander who is still just 25 years old and ineligible for free agency until after the 2009 season.
For more sports coverage, visit NBCSports.com