Zebra Mussel's A Serious Threat to Tri-Cities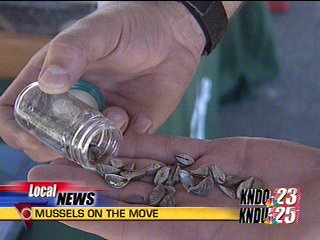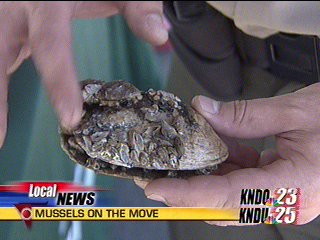 KENNEWICK, Wash. -- While many people are worried about getting their Water Follies tickets, the Department of Fish and Wildlife is thinking about an animal that can cause billions of dollars of damage.
Boats travelling from the midwest like the hydro rescue boat can bring the zebra mussels to Washington and they can quickly cause a lot of damage. The Department of Fish and Wildlife's Richard Phillips says, "Anything with fresh water these things come in."
The Dept. of Wildlife's Eric Anderson says, "These things have the potential to cost billions of dollars to the Northwest economy."Department officials say the mussels would be especially devastating in Eastern Washington, where irrigation and hydrolelectric pipes could be completely clogged by the mussels.
Anderson says, "Any type of screen or pipe, these things can attach to and make it so there is no flow what so ever."
Zebra mussels can also have a hue impact on the Columbia River's wildlife. Phillips says, "They would get rid of all the time and the money we put toward our endangered species."
So state officials were out today scrubbing and washing off the hydro rescue boat, making sure it was free of all the mussels it might have picked up when it was used last week in Detroit. And they say you should make sure you wash your boat if you are bringing your boat from out of state.
They say a simple wash with hot water or scrubbing it with a 10% bleach solution will do the job just fine. They say taking the time now will prevent great devastation later.