New Boats, Old Boats come together this weekend
Posted:
Updated: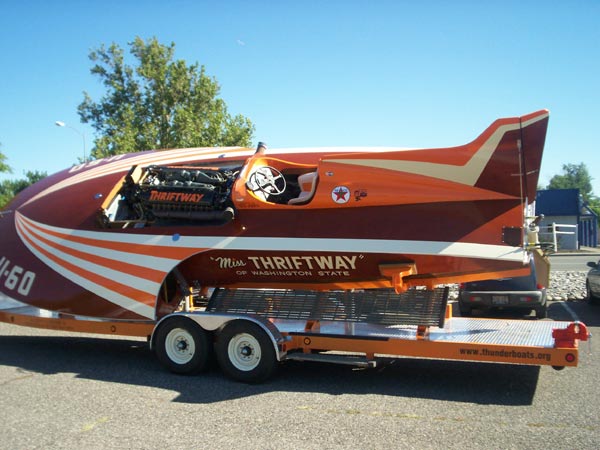 The brand new replica of the U-60 Thirftway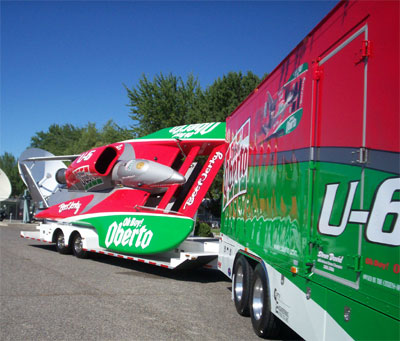 The brand new U-6 Oh Boy! Oberto/Miss Madison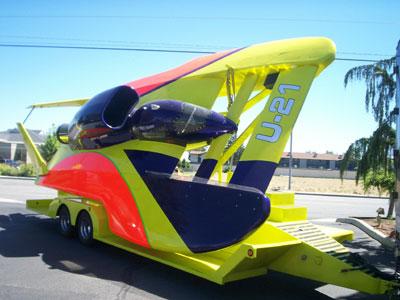 The brand new U-21 Freedom racing
KENNEWICK, Wash. - This year's Columbia Cup will have some very old boats, and some very new boats.
Of the 14 unlimteds competing, several are newly built models. The U-6 Oh Boy! Oberto, with Steve David at the wheel, is newly built this season. It has been running great through the first three races of this season. Crewmember Steve Dean takes special pride in the shark paint job with the teeth and gills.
The U-21 Meyers Auto Tech is also a newly built boat. Last year's U-21 was burnt to a crisp in a dramtic fire during Seafair. Driver Kevin Aylesworth escaped with minor burns, but has decided to shift into the owners role. Youngster Jeff Bernard moves into the cockpit, provided Aylesworth doesn't change his mind.
"I think he still wants to drive, but his kids right now are more important," said Perkins. "He wants to be a dad more than a driver. Those guys are the boss and we'll see what happens, and if they want to make a change, that's their call. We'll just have to see what happens."
The U-21 has not been ready to race yet this season, missing the circuit's first three races. The crew hopes for a good showing this weekend. "We're not trying to be world beaters yet," said Perkins.
Four vintage boats will race each other this weekend as well: the 1958 U-40 Miss Bardhal, the 1959 U-60 Miss Thriftway , the 1960 Miss Burian, and the 1975 Oh Boy! Oberto. U-60 Owner Steve Compton says the retro style and noisy engines will be crowd pleasers.
"This is an Allison, the ones that make the noise," he said. "For these old timers like us, it brings back a lot of good memories."
The vintage boats don't have enclosed cockpits, so will race a bit slower than the 200-mph unlimiteds. The vintages will be traveling at top speeds of 130 mph.
From Water Follies:
Thanks to the generosity of HAPO Community Credit Union, four Vintage Hydroplanes will entertain race fans this weekend at the 42nd Annual Tri City Water Follies. In addition, the Hawaii Kai will be on display for die hard race fans.
All five vintage boats will be on display Thursday July 26 at all HAPO locations in the Tri-Cities from 10 a.m. until 2 p.m.
1958 U-40 MISS BARDAHL will be displayed at HAPO in Richland on Williams Blvd: One of the most popular-and most successful-hydroplanes of all time. A fixture on the Unlimited scene from 1957 to 1969, the Ballard, Washington-based team won 27 races (including five Gold Cups) and six National High Point Championships and was the first to run a lap in competition at 117 miles per hour on a 3-mile course (in 1965).
1959 MISS THRIFTWAY will be located at the Pasco Branch on Rd. 68: The Miss Thriftway was a gorgeous boat with smooth, flawless lines and a distinctive streamlined cowling and tailfin. She was painted cream with persimmon strips. A loud, powerful and unflinchingly reliable Rolls-Royce Merlin engine powered her. Not only was she the most beautiful boat of her era, she was more successful than most boats ever built.
1960 MISS BURIAN will be on display on 20th Ave. across from CBC in Pasco: The Miss Burien never raced east of the Rockies, but she always put up a find on the Western circuit. She campaigned as the Tempest in 1962 and '63. The Burien remained the flagship of every person who dreamed of running with the big boys.
1975 OH BOY OBERTO will be on site at the HAPO branch on N. Union in Kennewick! The family of Art Oberto has sponsored a total of ten Unlimited hydroplanes since 1975. The Obertos' Seattle-based meat products business is the second oldest corporate sponsor in Unlimited racing.