U-21's Kevin Aylesworth is back in Tri-Cities; he's healthy and he's got a brand new boat
Posted:
Updated: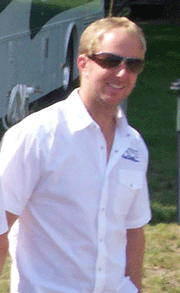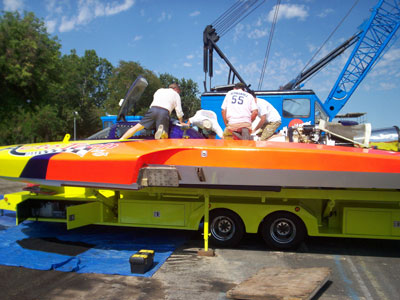 KENNEWICK, Wash. - A relaxed Kevin Aylesworth looks healthy and happy. Kevin's the co-owner of the U-21 Freedom Racing team / Meyers' Auto Tech unlimited hydroplane, a brand new race boat.
Kevin was the driver last year of the U-21 when it burned up in Seattle. There was no way to re-build. "It's cut up and on the side of a hill," Aylesworth said about the old hull.
It's an expensive proposition to build a new boat, but that's what they did. Owner Jeffrey Johnson said "we're in it for the long term."
Aylesworth banged up his knee getting out of the burning boat in Seattle last year and he'd had a spectacular accident the year before while racing unlimited lights. He says he's 100% healed now. In fact, he ran a triathlon recently.
The new boat was designed in great part by Dale Van Weiringen, who also worked on the new U-6 Oh Boy! Oberto boat. Aylesworth said there's a lot of new engineering on board, including a different pedal assembly. "Different than any other boat," he said. That's important to cut down on vibration. "The canards start fluttering at 180; there are so many linkages," he said. The new design should cut down on that and give you a smoother ride.
It's going to a building process. The boat construction took a little longer than the team would have wanted, but you can't rush it. They hoped to make Detroit, but missed. They also hoped to put the boat in the water before Tri-Cities, but that didn't happen either. So, rookie driver Brian Perkins will get his first taste in the cockpit during Friday's qualifying.
They'll start slow - if you can call 100 mph - slow and build from there. "When I came out here two years in the unlimited light, we went out and did a 100 mile lap," said Aylesworth. "Then we brought in it and checked it out, then back out to go faster, then back in to check it again. We'll do the same thing here."
"Baby steps," said driver Brian Perkins. "Start slow and build up."
If you talk to the race teams that have been building or re-building boats, one of the recurring themes has been how helpful other teams have been in getting the job done. Teams and suppliers pitched in to get the teams ready. "You don't see that in other sports," said Johnson.
Last year, when the U-21 was damaged in Tri-Cities, other crew chiefs came to help. "Dave Villwock had just flipped two hours earlier," said Johnson. "He was over at our boats working on our prop," said Aylesworth.
The team also has a back-up hull they bought last year from Ken Muscatel. It's painted up to match the new boat and on display in San Diego currently promoting the races there. It isn't race-ready, but might be if needed. The boat was originally built in Australia and known as the Aussie Endeavor.
It has to be hard for Kevin to have a brand new boat and not take it our for a spin. "I did bring my uniform," he said. Who knows?