U-1's Mike Allen explains the Columbia River race course
Posted:
Updated: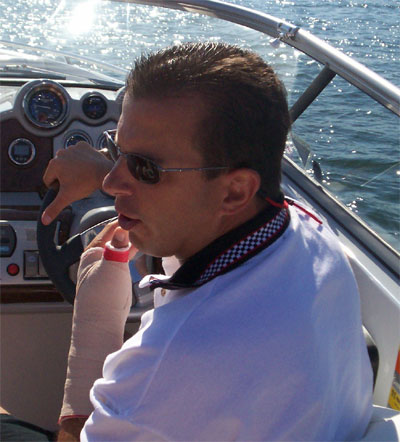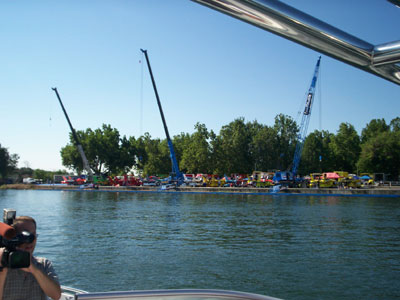 KENNEWICK, Wash - He may not be racing this weekend, but FormulaBoats.com driver Mike Allen is in the Tri-Cities anyways. "I'll probably be more nervous on the shore than on the water. You don't know what's going on when you're on the shore," he said.
Allen re-injured his arm in Detroit - you can see the cast on his arm in the picture to the right, but not the six screws in his thumb and wrist. He'll be sitting out the Tri-Cities race. Instead, he took us for a ride in a Formula Boats cruiser on Friday morning. It's a far cry from the 200 mph unlimited hydroplane he drives. We hit 35 mph making the loop on the Columbia River course several times.
Winds were fairly light, but even at such low speeds you could feel the cross-wind coming into turn two. "At the entrance to turn two," Allen said; "the winds coming at the front of the boat." As you turn, the wind can push you into the buoys. "It also has a tendency to lift the boat up." The wind is head-on, then into your side.
"The wind dies out of turn two and you've got this nice big straightaway," he said. "That's the fun part." With the wind usually at your back, you can let your boat fly.
But before you get to turn two, you've got to survive the start and turn two.
"If you're a split second behind (at the start), you're gonna get smoked," he said. Then it's on to turn one. "The first turn has some pretty bad rollers." We've seen many flips there over the years in Tri-Cities.
"After the start, turn one is the most crucial part of the race. There's a huge wall of water to get through." Allen said it's where you really become aware of other drivers because often boats are packed in and you have to be very careful. "Coming out of the turn, boats start to space out and it gets a little easier."
He said the Columbia River course is a little easier to line up. The course is parrellel to the shoreline. That's not the case everywhere. And you can watch the flag on the Blue Bridge when you're on the front straightaway to see if there are changes.
"Lot of wind on the back stretch," he said. "Drivers will have to watch it today."