Columbia Cup 2007: Bryant, Villwock, Theoret win first three heats
Posted:
Updated: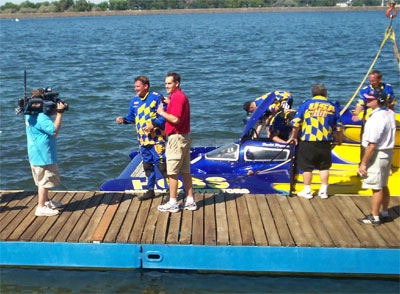 David Bryant with Scott Reister after winning his first heat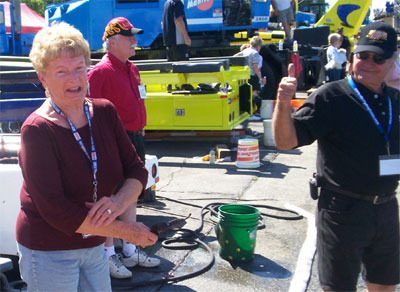 Mom Peggy Bryant - tears of joy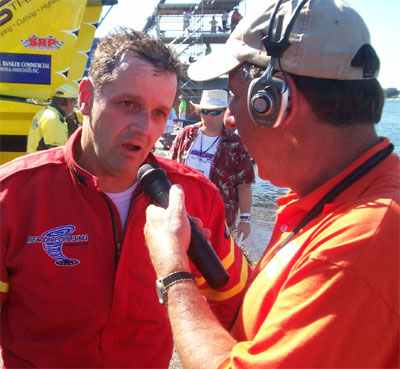 Jean Theoret with KONA's Brad Luce
Heat 1A
With tears in her eyes, Peggy Bryant watched her son win his first unlimited hydroplane. "I'm excited. I'm relieved," she said.
David Bryant in the U-10 - is it Ahern Rentals or Hoss Mortgage? - was the winner of Heat 1A. He ran a clean race and the boat ran well, but he was also the beneficiary of two gun-jumpers: Steve David in the U-6 Oh Boy! Oberto and Jeff Bernard in the U-5 FormulaBoats.com
J. Michael Kelly finished second to claim 300 points. Rookie Jimmy Shane, starting on the back line since he hasn't had enough qualifying laps, finished 3rd in his first race.
"Boat fast ran well... Hooked hard in turns," said Bryant.
Steve David said: "I was over by at least a boat length."
Heat 1A
| | | |
| --- | --- | --- |
| Boat | Driver | Points |
| U-10 Hoss Mortgage Investors | David Bryant | 400 |
| U-13 Spirit of Detroit | J. Michael Kelly | 300 |
| U-1 Formulaboats.com | Jimmy Shane | 225 |
| U-6 Oh Boy! Oberto | Steve David | 169 |
| U-5 Formulaboats.com | Jeff Bernard | 127 |
Heat 1B
"Good day here," said U-16 Ellstrom's Elam driver Dave Villwock as he kept his winning streak alive and took home an easy Heat 1B win, starting on the outside and out-running the field.
The U-100 Mirageboats.com jumped the gun and got a one-lap penalty. Ken Muscatel in the U-25 Superior Racing went dead at the start of the race, but got it fired back up. That paved the way for rookie driver Brian Perkins in the U-21 Meyers' Auto Tech. Perkins had qualified earlier in the day as a driver and now took a second place and 300 boats.
This morning, the U-21 had a little smoke problem. Perkins said there was a problem with the gear box - it was running hot - a little smoke, but they should be fine. Kevin Aylesworth said they had capped Brian at 140mph, but the boat was running well so they cut him loose a little bit... "Let's pick it up again," said Kevin. They did. He hit 143+ in qualifying. Looking good.

"Boats running about the best it can," said Villwock.

Heat 1B
| | | |
| --- | --- | --- |
| Boat | Driver | Points |
| U-16 Miss Ellstrom Elam Plus | Dave Villwock | 400 |
| U-21 Meyers' Auto Tech | Brian Perkins | 300 |
| U-25 Superior Racing | Ken Muscatel | 225 |
| U-100 Mirageboats.com | Greg Hopp | 169 |
The U-48 Lakeridge Plumbing had electrical problems. "That's boat racing," said U-48 driver David Williams. Williams said they had already let the ABRA crew know they couldn't make it when the boat was able to fire up on the sled. Just too late. Williams says the boat will be ready to go Sunday.
More bad luck for the U-3 Hoss Mortgage II as Jimmy King started strong, but lost a prop on the backstretch of lap one and went dead again.
That left U-37 Miss Beacon Plumbing driven by Jean Theoret and Chris Bertram in the U-9 Miss Conover Insurance. Theoret ran away with an easy victory. "400 points underneath our belt on Saturday night," said Theoret. "Got to like that."
"I ran it as hard as it would let me," said U-9's Bertram.
Heat 1C
Boat
Driver
Points
U-37 Miss Beacon Plumbing
Jean Theoret
400
U-9 Miss Conover Insurance
Chris Bertram
300
U-3 Hoss Mortgage Investors II
Presents Ronald McDonald House
Jimmy King
DNF
U-48 Miss Lakeridge Paving
David Williams
DNS