Brian Perkins qualifies as an Unlimited Hydroplane driver
Posted:
Updated: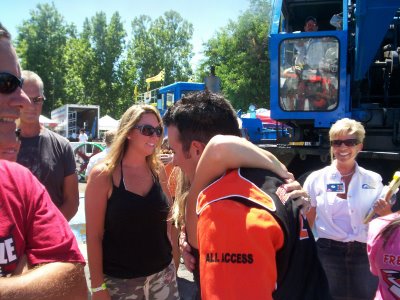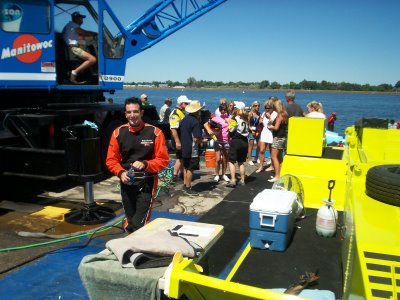 KENNEWICK, Wash - Brian Perkins joined an elite club on Saturday when he got in his qualifying laps and became an "official" unlimited hydroplane driver.
Drivers must complete 15 laps in a hydro. 10 of those laps must exceed 130 mph. Perkins did it in the brand new U-21 Meyers' Auto Tech boat. As he finished the final lap he needed and came back to the dock, their was applause and high fives from the crew.
The day didn't get off to such a good start when smoke started coming fromt he boat during one of the earlier runs. "It was a gear box," said Perkins. "It was running hot - a little smoke." But the crew got it fixed and got Brian back on the water.
The team had started the weekend slowly - if you can call 115 mph laps slowly - and then built from there. Co-onwer Kevin Aylesworth said they had capped Brian at 140mph, but the boat was running well so they cut him loose a little bit... "Let's pick it up again," said Kevin. They did. He hit 143+
Question to Kevin Aylesworth: "Nervous at all about a young driver in a new boat?"

Answer: "We got a million dollar boat and we're putting a young kid in it. What do you think?" He said it with a smile and a laugh.
Back on the shore, Mom and Dad watched. Nervous? "No," said Dad. "Yes," said Mom. Brian's sister Kayleigh also drives hydros - she's the current driver of the UL-72 Miss Boat Electric. She's back home with the flu and unable to root on her brother.
Owner Jeffrey Johnson said Perkins is a "good, young driver. He knows what he's doing out there and we think he'll be very good." He's off to a good start. Getting qualified in your first weekend of boat racing is not easy. A lot of boat want that time on the water, so to get 15 in is tough. But he did it.
And then to top things off, he went out and finished second in his first heat. He did get a little help from Greg Hopp in the U-100 when he jumped the gun and had to take an extra lap as a penalty... and Ken Muscatel in the U-25 went dead in the water and sat for most of the first lap until he could re-start. Still, a second place means 300 points.
"Great start," said Aylesworth. "That was fun," said Perkins.