Columbia Cup 2007: U-16 Ellstrom's Elam & Dave Villwock win fourth straight unlimited hydroplane trophy
Posted:
Updated: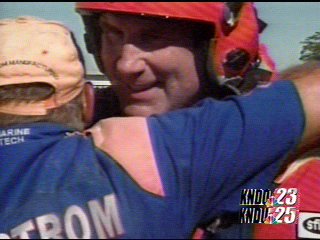 KENNEWICK, Wash. - It was supposed to be the most competitive field of boats in years, but so far 2007's been a one-man show. Dave Villwock in the orange and white U-16 Ellstrom's Elam blew away the field for the fourth straight weekend of boat racing. He's now swept 4 of 6 race sites and looking unstoppable in his quest for an unpecedented sweep of the season.
Villwock did it starting on the outside in lane four of the finals. He spent the first two laps chasing down Steve David in the U-6 Oh Boy! Oberto who finished second for the third straight time. In lap two, turn two, Villwock ran David down and pulled past the U-6 and cruised the rest of the way for the win.
It was a great weekend for the U-10 Hoss Mortgage Investors and drive David Bryant. Despite fighting mechanical problems all weekend, and sitting out the Detroit race with a broken boat, Bryant was solid, made it to the finals, and will take home a third place trophy.
J. Michael Kelly in the U-13 Spirit of Detroit almost didn't make the last two heats because of steering problems, but he did... then went out and won the provisional heat giving him the trailer position in the finals. He made the most of it, passing up the U-9 Conover Insurance and Chris Bertram and U-5 FormulaBoats.com and Jeff Bernard to finish fourth.
Jean Theoret in the U-37 Beacon Plumbing has struggled the last few weekends and was penalized in the finals for a lane encroachment in the second turn of lap one, and finished seventh.
After the win, Villwock said "Erick (Ellstrom) told me to get out there in free water and let it fly. Get some big speed." The team had to tear the gear box apart before the final. Why? "Because they wanted to win," Villwock said. Owner/crew chief Erick Ellstrom said "The Tri-Cities is always good to us. Just a great day."

KNDU's Scott Reister asked him... with four wins in a row... can you dynasty now? Ellstrom: "No."

FINAL RESULTS
| | | | |
| --- | --- | --- | --- |
| | Boat | Driver | Avg. Speed |
| 1 | U-16 Miss Ellstrom Elam Plus | Dave Villwock | 145.013 |
| 2 | U-6 Oh Boy! Oberto | Steve David | 142.164 |
| 3 | U-10 Hoss Mortgage Investors | David Bryant | 137.454 |
| 4 | U-13 Spirit of Detroit | J Michael Kelly | 134.687 |
| 5 | U-5 Formulaboats.com | Jeff Bernard | 122.296 |
| 6 | U-9 Miss Conover Insurance | Chris Bertram | 117.456 |
| 7 | U-37 Miss Beacon Plumbing | Jean Theoret | 124.814 |
| | |
| --- | --- |
| FINAL POINT TOTALS FOR COLUMBIA CUP 2007 | Points |
| U-16 Miss Ellstrom Elam Plus | 1700 |
| U-6 Oh Boy! Oberto | 1249 |
| U-37 Miss Beacon Plumbing | 1241 |
| U-10 Hoss Mortgage Investors | 1190 |
| U-5 Formulaboats.com | 1104 |
| U-9 Miss Conover Insurance | 894 |
| U-13 Spirit of Detroit | 799 |
| U-100 Mirageboats.com | 724 |
| U-21 Myers' Auto Tech | 668 |
| U-25 Superior Racing | 649 |
| U-48 Miss Lakeridge Paving | 480 |
| U-1 Formulaboats.com | 255 |
| U-3 Hoss Mortgage Investors II Presents Ronald McDonalds House | 60 |
COMPLETE RE-CAP OF RACE RESULTS:
Shafer Motors & Round Table Pizza Dash for Cash Results
Boat
Driver
1.
U-6 Oh Boy! Oberto
Steve David
2.
U-13 Spirit of Detroit
J. Michael Kelly
3.
U-9 Conover Insurance
Chris Bertram
4.
U-48 Miss Lakeridge Praving
David Williams
DNF.
U-3 Hoss Mortgage Investors II
Presents Ronald McDonald House
Jimmy King
Unlimited Heat 1A
| | | |
| --- | --- | --- |
| Boat | Driver | Points |
| U-10 Hoss Mortgage Investors | David Bryant | 400 |
| U-13 Spirit of Detroit | J. Michael Kelly | 300 |
| U-1 Formulaboats.com | Jimmy Shane | 225 |
| U-6 Oh Boy! Oberto | Steve David | 169 |
| U-5 Formulaboats.com | Jeff Bernard | 127 |
Unlimited Heat 1B
| | | |
| --- | --- | --- |
| Boat | Driver | Points |
| U-16 Miss Ellstrom Elam Plus | Dave Villwock | 400 |
| U-21 Meyers' Auto Tech | Brian Perkins | 300 |
| U-25 Superior Racing | Ken Muscatel | 225 |
| U-100 Mirageboats.com | Greg Hopp | 169 |
Unlimited Heat 1C
Boat
Driver
Points
U-37 Miss Beacon Plumbing
Jean Theoret
400
U-9 Miss Conover Insurance
Chris Bertram
300
U-3 Hoss Mortgage Investors II
Presents Ronals McDonald House
Jimmy King
DNF
U-48 Miss Lakeridge Paving
David Williams
DNS

U-3 DNF after losing a prop in the first turn
Unlimited Heat 2A
Boat
Driver
Points
U-16 Miss Ellstrom Elam Plus
Dave Villwock
400
U-37 Miss Becon Plumbing
Jean Theoret
300
U-48 Miss Lakeridge Paving
David Williams
225
U-9 Miss Conover Insurance
Chris Bertram
169
U-1 Formulaboats.com
Jimmy Shane
DNF

U-9 penalized for hitting a buoy on the track
Unlimited Heat 2B
Boat
Driver
Points
U-5 Formulaboats.com
Jeff Bernard
400
U-10 Hoss Mortgage Investors
David Bryant
300
U-25 Superior Racing
Ken Muscatel
225
U-21 Meyers' Auto Tech
Brian Perkins
169
Unlimited Heat 2C
Boat
Driver
Points
U-6 Oh Boy! Oberto
Steve David
400
U-13 Spirit of Detroit
J. Michael Kelly
300
U-100 Mirageboats.com
Greg Hopp
225
U-3 Hoss MOrtgage Investors II
Presents Ronald McDonald House
Jimmy King
0
Unlimited Heat 3A
Boat
Driver
Points
U-5 Formulaboats.com
Jeff Bernard
400
U-6 Oh Boy! Oberto
Steve David
300
U-10 Hoss Mortgage Investors
David Bryant
225
U-25 Superior Racing
Ken Muscatel
169
Unlimited Heat 3B
Boat
Driver
Points
U-37 Miss Beacon Plumbing
Jean Theoret
400
U-9 Miss Conover Insurance
Chris Bertram
300
U-13 Spirit of Detroit
J. Michael Kelly
DNF
U-3 Hoss Mortgage Investors II
Presents Ronald McDonald House
Jimmy King
DNS

U-3 Hoss Mortgage Investors II driven by Jimmy King, has withdrawn
Unlimited Heat 3C
Boat
Driver
Points
U-16 Miss Ellstrom Elam Plus
Dave Villwock
400
U-100 Mirageboats.com
Greg Hopp
300
U-48 Miss Lakeridge Paving
David Williams
225
U-21 Meyers' Auto Tech
Brian Perkins
169

U-1 Formulaboats.com driven by Jimmy Shane, has withdrawn
Unlimited Provisional Heat
| | | |
| --- | --- | --- |
| | Boat | Driver |
| 1. | U-13 Spirit of Detroit | J. Michael Kelly |
| 2. | U-48 Miss Lakeridge Paving | David Williams |
| 3. | U-21 Meyers' Auto Tech | Brian Perkins |