By Tom Curran
With Pac-man chomped, Titans bolster defensive backfield
Posted:
Updated: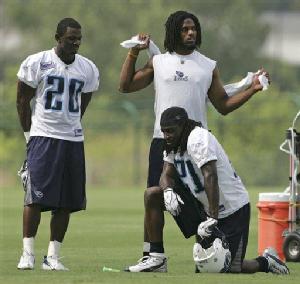 AP - The Titans' defensive backfield gains a few players, like Michael Griffin, standing at right, and Nick Harper, left.
What's the No. 1 place the
Tennessee Titans
need to sort out defensively in this training camp? Defensive coordinator Jim Schwartz doesn't even hesitate.
"Corner," said the Titans aggressive coordinator. "Obviously, we lost (Pacman Jones, who's been suspended for the year). But when we played our best football here we had solid corners. Denard Walker and Samari Rolle, Andre Dyson. They anchored our ability to get in some eight-man fronts, to be able to play man and blitz. It had gotten to the point where we were getting close back to there. Now we've taken a step back losing Pac."
The Titans finished at or near the bottom of the league in a host of defensive categories.
They allowed the most yards per game, were 30th in rushing yards allowed and 27th in passing yards allowed. They didn't get enough pressure on the quarterback (26 sacks) and the absence of Jones, who really blossomed as a cover man and in the return game, hurts.
Schwartz is tentatively enthused by the offseason signings made to help the secondary.
"Signing Kelly Herndon, signing Nick Harper, drafting (Texas safety Michael Griffin) and adding some other young guys (will help)," he explained. "We're hoping we can hold it down but you need to see it. It's one thing to do it in practice. It's going to be until preseason before we really get a good read."
Schwartz knows good defense.
"From 1999 to 2003, we were a bad-ass defense. We had the marquee guys (Kevin Carter, Jevon Kearse, John Thornton) but we had so many veterans, too. The thing about Nick Harper and Kelly Herndon and Chris Hope and David Thornton is we're stating to build that nucleus of veterans back up."
Two Titans in particular - defensive end Kyle Vanden Bosch and defensive tackle Albert Haynesworth - play with such consistent ferocity it's hard to see Tennessee not getting better as a unit.
"That's just how we are here on this defense," said Haynesworth, whose combustible temper earned him a six-game suspension after he stomped Dallas' center Andre Gurode last year. "The Tennessee Tyrants. That's what we're bringing back. The first few years when I came in and we were the Tennessee Tyrants. We were playing hard, didn't care what anyone thought and that's what we're going to get back to. We can't apologize for going hard.
"My definition of training camp is to try and make 1+1=3," he said. Our whole has got to be greater than the sum of our parts. That's building intensity, that's running to the ball. If you have a guy miss a tackle you have (expletive) nine other guys knocking the (expletive) out of him.
For more sports coverage, visit NBCSports.com