U-13 Spirit of Detroit's J. Michael Kelly is moving up the point standings
Posted:
Updated: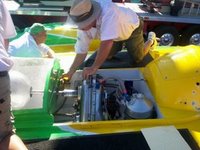 U13 crew works to fix the steering linkage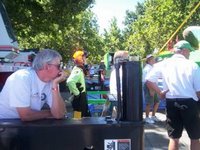 Kelly looks on as the minutes click by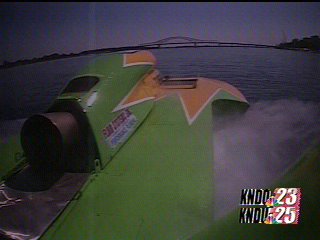 View from tailcam video from nwspeedshots.com video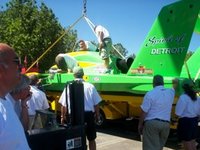 J. Michael Kelly's had a strong showing in the U-13 Spirit of Detroit so far this year, including two third place finishes and a fourth in the last 3 races.
At Tri-Cities, Kelly won the provisional heat which granted him a place in the final race, but that place was as a trailer, running behind the other boats. That puts the boat and driver at a serious disadvantage. Only one time in modern history has a driver ever won a race from that position.
"It's very, very rough back there," said Kelly. One unlimited hydroplane kicks up plenty of water, but six of them running through the same patch of water is something else. "There's no good water."
Kelly says his strategy is simple. "I have nothing to lose. If I can pick up a couple of spots, I'll take what I can get." He made it happen in the Tri-Cities final, passing up two boats and picking up a place when U-37 Beacon Plumbing driver Jean Theoret was penalized a lap for encroachment. Earlier in the day, Kelly ran second in Heats 1A and 2C.
The third heat almost didn't happen. The steering went out on the boat. But the crew rallied and replaced the cable just in time - barely - for the boat to get back out on the water. Outside of that problem, the boat's run pretty well this year for an older hull. "We got an earlier start this winter, went through our inventory and made sure everything was in working condition," said Kelly. "Once the race season started, we were ready to go."
What advice did the team have for Kelly this year? "Stay out of trouble," he said. "Be clean, finish our heats, get our points, and be consistent." The goal all weekend is to get the boat and driver into the finals. "If we do that (stay out of trouble), we should be able to make the front row every time."
The challenge with older equipment is changing between faster and slower speeds, which means timing the start is even harder. "We haven't been able to troll like the other guys, so we get stuck on the outside," he said. It's much more difficult to make up ground coming from the outside. And not being able to troll at the slower speeds means you have to really hit the gas at exactly the right time to hit the start line without going over. Kelly's had some great starts this year, only to get chased down by faster boats.

Still, Kelly's maturing and so is his driving. "The boat seems to get better every time out," Kelly said.