U-21's Brian Perkins: "We accomplished every one of our goals"
Posted:
Updated: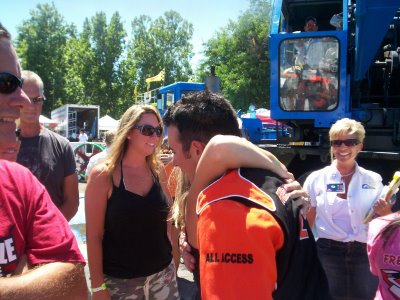 We're now qualified...!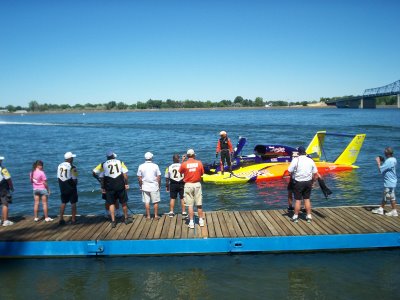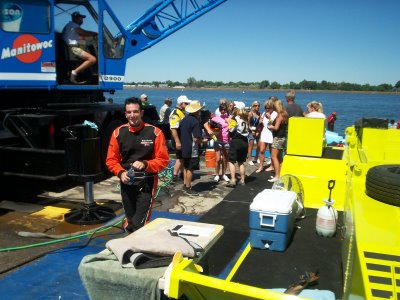 That pesky gear box problem should be fixed before Seattle, said U-21 driver Brian Perkins. The gear box was running hot - really hot - at times in the Tri-Cities and filling the cockpit up with smoke. That meant taking shorter runs on the water. In practice, Perkins sometimes took two laps instead of three to get back to shore and check data. For heats, they waited until the 5 minute gun to spool up.
Perkins said they made a lot of progress this weekend and will make more this week. "We put a temperature sensor in there. When we first did it, it was 300 degrees. Our crew was able to drop it down to 180, so we've dropped 100 degrees already." Perkins said they've talked with U-6 crew chief Mike Hansen and others that have had that hot-gear-box-problem before. "They told us some tricks and ways we should be able to drop it another hundred degrees."
Despite the problem, it was a good weekend and a strong start for a brand new boat and a brand new unlimited hydroplane driver. The boat and the driver got qualified. "We accomplished every one of our goals," he said; "and nothing broke." That is an accomplishment when you consider the boat never got wet before Tri-Cities. Testing near San Diego had been planned, but getting the boat ready and operating safely was more important.
"They (the crew) sent the long shaft out to be straightened and didn't get it back in time," said Perkins. That meant waiting until Tri-Cities and getting things together there. "We did a couple of dry runs on the trailer in San Diego and then headed here."
"Going in to Tri-Cities, we wanted to get qualified as a team, as a driver, run the boat, get some good data, get a piece so we know what we have to work with," Perkins said. They did that. "This weekend, go a little bit faster each time."
"I've got a lot of learning to do as well as the team. It's an incredible feeling."