At least 6 dead as Minneapolis bridge collapses
Posted:
Updated: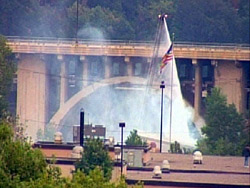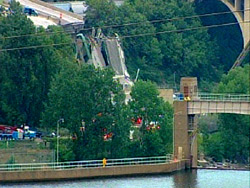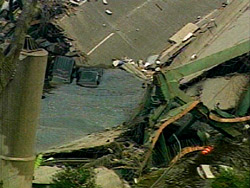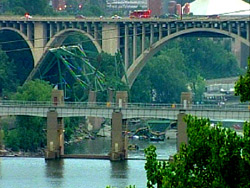 At least 6 dead as Minneapolis bridge collapses

More>>

Thursday, August 2 2007 12:11 PM EDT

2007-08-02 16:11:42 GMT

Recuers continue the search Thursday morning after having to call of the search the night before when conditions made the effort too dangerous.

More >>

Recuers continue the search Thursday morning after having to call of the search the night before when conditions made the effort too dangerous.

More >>
MSNBC staff and news service reports
MINNEAPOLIS - The entire span of an interstate bridge suddenly broke into huge sections and collapsed into the Mississippi River during evening bumper-to-bumper traffic Wednesday, sending vehicles, tons of concrete and twisted metal crashing into the water.
Kristi Rollwagen, the deputy director of emergency preparedness for the city, said seven people had died in the incident.
Police Chief Tim Dolan said all survivors who were on the bridge are now off. "We've accounted for all the construction workers except for one," he said.
Hours after the collapse, Mayor R.T. Rybak said rescue workers had searched around 50 cars.
"Obviously this is a catastrophe of historic proportions," said Minnesota Gov. Tim Pawlenty.
The Interstate 35W bridge, a major Minneapolis artery, was in the midst of being repaired when it collapsed at 6:05 p.m. CT. Repairs, which closed at least two of the eight lanes, involved guardrail replacement on the joints and concrete work, Pawlenty said.
"There were two lanes of traffic, bumper to bumper, at the point of the collapse. Those cars did go into the river," said Minneapolis Police Lt. Amelia Huffman. "At this point there is nothing to suggest that this was anything other than a structural collapse."
At least 58 individuals - at least 10 of them children - were injured, said medical officials. Six individuals being treated at Hennepin County Medical Center were in critical condition, Dr. Joseph Clinton said.
Clinton said the injuries were blunt force trauma to the abdomen, head, trunk and extremities.
NBC News reported that every Minneapolis ambulance had been requested to the scene.
A freight train was passing under the bridge when it collapsed and was cut in two, reported witnesses on the scene to MSNBC.
Police set up floodlights so rescue officials can work throughout the night.
The Minnesota Department of Transportation told local media that 200,000 cars a day use the bridge.
The bridge, built in 1967, was last inspected in 2006 and had no major structural defects or deficits, Pawlenty said. "We were told the deck would have to be replaced in 2020."
'It shook the ground'
A burning truck and a school bus clung to one slanted slab after the collapse.
The school bus carrying 60 children reportedly had just crossed the bridge before the structure crumpled into pieces. The children, who have since been united with their families, exited out the back door of the bus. A Red Cross official said 10 were transported to a hospital.
Ritha Boyle, 22, who said she lives about 200 yards from the bridge, witnessed the collapse.
"At first I just heard a big bang and I thought it was thunderstorms," Boyle told MSNBC.com. "Then I looked outside I noticed there was dust coming up from the bridge, and then I saw it go down and hit a train. I saw some cars trying to hit their brakes and stuff like that, and a whole bunch of cars went down."
Ramon Houge of St. Paul was on his way home from work at Wells Fargo and was driving on the bridge when heard a rumbling noise, saw the ground collapse and cars go down, StarTribune.com reported.
"It didn't seem like it was real," he said. Traffic was bumper to bumper, he told the Star Tribune, adding that he saw kids on a bus with blood on their faces.
Sarah Fahnhorst, who lives in an apartment a block away from the bridge, heard a huge thud and then "the entire building shook. It shook the ground," she told the Star Tribune.
Official: No indication of terrorism
A spokesman for the Department of Homeland Security said there is no reason to think that terrorism was involved in the collapse, NBC News' Pete Williams reported.
"We continue to monitor the situation. At this time, there's no indication of a nexus to terrorism," department spokesman Russ Knocke said in Washington.
U.S. Transportation Secretary Mary Peters will be flying from Washington to Minneapolis early Thursday morning, NBC News' Jay Blackman reported.
StarTribune.com reported that many vehicles were trying to get to the 7:10 p.m. CT Twins game at the nearby Metrodome. Wednesday's game went on as scheduled.
The team postponed Thursday afternoon's game against the Kansas City Royals in response to the incident.
The Minnesota Ballpark Authority also postponed a groundbreaking ceremony for a new stadium that was scheduled for Thursday evening.
(NBC News, The Star Tribune, The Associated Press and Reuters contributed to this report.)