U-6 Oh Boy! Oberto & Steve David: "We're legitimate contenders"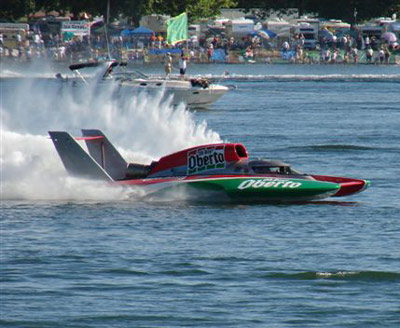 Photo - Mick Washburn
SEATTLE, Wash. - Associated Press

If there is a boat and driver poised to thwart the U-16 Ellstrom's Elam and driver Dave Villwock, it is Steve David and U-6 Oh Boy! Oberto.
"I think they're doing better than anyone else," Villwock said. "They have a fast team."
"We're legitimate contenders," agrees David. "The Oberto company is providing all the tools for the team to do the best we can." Oberto, a Seattle food company, helped pay for a new boat this year for the team from Madison, Ind.
"I think we could win a race," says Larry Oberto, sponsor representative for the company. "If somebody sneezes we'll capitalize on their error. We're fast enough now to be in the backs of our competitors' minds. We can legitimately push them."
The new Oh Boy! Oberto was designed by Dale VanWieringen and built by VanWieringen and Rick Bowles, from carbon fiber parts made by Ron Jones, Jr.
In April, the bare hull was trucked from Seattle to Madison, where crew chief Mike Hanson directed placement of the engine and gear box and installation of hardware.
On June 28, members of the Oberto family formally presented the boat to the city of Madison. The municipally owned hydroplane has proven its worth by finishing second to Ellstrom-E-Lam Plus three times this season.
"The people in Madison really believe they have a shot at winning," says David.
Larry Oberto has a racing background of his own that has benefits the team. For several years he raced cars and stock outboard hydroplanes.
"I understand the dynamics of what a winning team is and how it acts," he said.