Police Chase in Pasco Ends Peacefully
Posted:
Updated: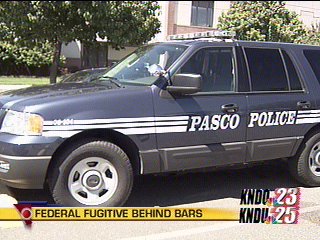 PASCO, Wash. - Kennewick police and a local FBI agent spotted 31-year-old Oscar Garcia Jr. driving around in a red Mustang on 7th and Lewis street in Pasco. They called Pasco police who managed to get behind the vehicle on Bonneville street. After seeing patrol cars, Garcia fled, running a stop sign and two traffic lights.
"It was a short chase," says Sgt. Ben Majetich. It went down all the way to Lewis street and then circled around the residential's a little bit and got out onto 10th avenue which is one of our main streets."
At the time later, there was a lot of traffic. Considering the public's safety along with not knowing the nature of Garcia's warrants, police decided to suspend the chase.
"The safety to the public outweighed the need to immediately apprehend him so we chose to discontinue," according to Sgt. Majetich.
About 20 minutes later, Pasco detectives located the red Mustang nearby on Jay street. A short distance away, Garcia was seen sitting under a tree. As police approached, the suspect took off.
"He jumped up and a foot chase occurred and he ran a couple of blocks until going into a house on the 700 block of Jay street," says Sgt. Ben Majetich.
Residents of that home quickly evacuated. Police say Garcia attempted to barricade himself in a bedroom. SWAT was called out, but Garcia surrendered peacefully before they arrived.