Barry Bonds hits 755th home run, ties Hank Aaron's record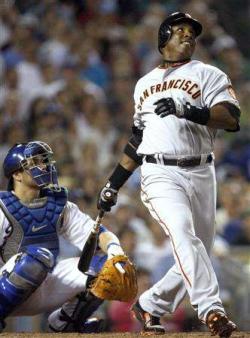 Associated Press - August 4, 2007 11:33 PM ET
SAN DIEGO (AP) - While there were some boos mixed in, the Petco Park in San Diego crowd stood and cheered for Barry Bonds' 755th home run, which ties the Giants slugger with Hank Aaron atop the all-time list.
Bonds hit number-755 on a 2-1 pitch from Padres right-hander Clay Hensley to lead off the second inning.
The Giants' slugger stood and watched the flight of the opposite-field shot, then took a half-dozen steps and clapped his hands before jogging around the bases.
Commissioner Bud Selig (SEE-lihg) stood up and put his hands in his pockets while Bonds' family hugged and high-fived. When Bonds crossed the plate, he lifted his batboy son, Nikolai NEE'-koh-ly), and carried him several steps in an embrace.
Several fans held up asterisk signs and Bonds was booed as he headed to left field at the end of the inning.
The 43-year-old Bonds has been shadowed by suspicions of steroid use for several years and many fans feel his chase of Aaron's record is tainted.
Tonight's homer for Bonds was his first since July 27th. It came at 7:29 p.m (Pacific) and traveled 382 feet.
Copyright 2007 The Associated Press. All rights reserved. This material may not be published, broadcast, rewritten or redistributed.