Seattle 2007: Hopp, Bryant , Theoret , Bernard win Sunday unlimited hydroplane racing heats
Posted:
Updated: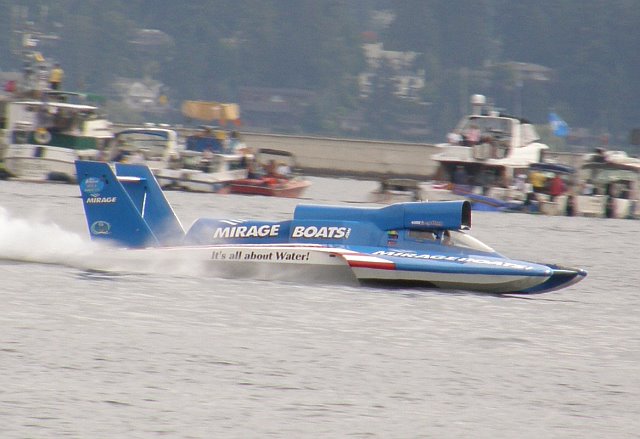 Photo - Russ McElroy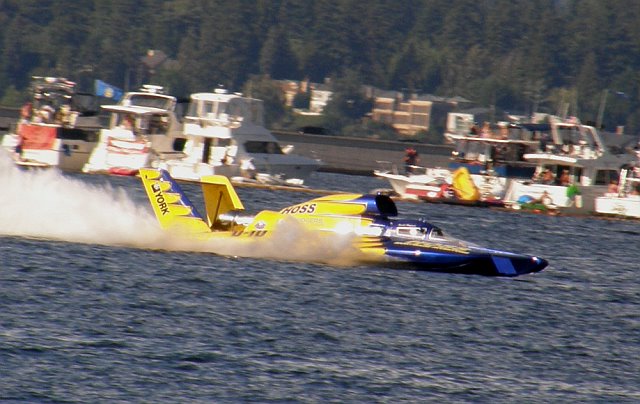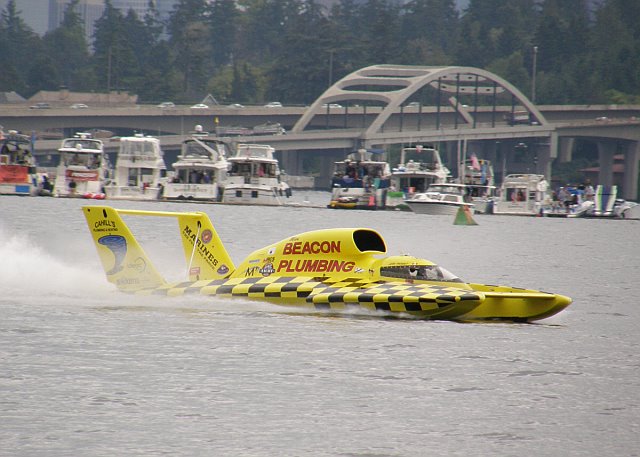 The big story of the day wasn't who won, but rather who lost. Dave Villwock has been unbeatable this year in tne U-16 Ellstrom's Elam. Coming into the Seafair weekend, Villwock had won all four races this season. But on Sunday, Jean Theoret in the U-37 Beacon Plumbing beat him twice in preliminary heats.
Heat 2A

All three drivers had their turn as the leader. Ken Muscatel led the pack across the start line in the U-25 and was the leader coming out of turn one. Then it was Nate Brown's turn in the U-17. But in the end, it was Greg Hopp in the U-100 taking the checkered flag.

"We had motor issues yesterday," said Hopp. "Put a new one in today; this one runs a lot better,"

Going into the weekend, U-17 driver Nate Brown said one of his goals was to have a deck-to-deck race. He got that in Heat 2A with Greg Hopp. While Hopp finished first, Brown has to happy with the finish. "I'm having a little trouble getting it through the corners," he said. "We'll have to work on that.
Ken Muscatel went dead in the water after running two strong laps and was unable to get the boat restarted. He also missed a buoy and was unable to go back and get it.
Heat 2A Results
1. U-100 Greg Hopp
2. U-17 Nate Brown
DNF. U-25 Ken Muscatel
DNS. U-48 David Williams
DNS. U-9 Chris Bertram

Heat 2B
Wow. What a great race and an incredible finish. David Bryant in the U-10 started in lane three and it took him three laps to catch up to U-6 Steve David. In a photo finish where the boats were separated by three-tenths of a second, Bryant managed to just beat out David for the win.
"Great race," said Bryant. The u-10 Hoss Mortgage Investors team has been saying how fast that boat can run and Bryant proved it, turning on the jets and just barely overtaking David to win Heat 2B.

"He is an outstanding young driver," said David. "This is anybody's race."
Heat 2B Results
1. U-10 David Bryant
2. U-6 Steve David
3. U-5 Jeff Bernard
4. U-13 J. Michael Kelly
5. U-1 Jimmy Shane

Heat 2C

Dave Villwock is beatable. Jean Theoret in the U-37 proved that in Heat 2C.

The U-3 doesn't have the low trolling speeds some of the other boats do, so the piston-powered boat has to time a flying start to hit the line at top speed. This time, Jimmy King was a fraction of a second early across the line, getting a one-lap penalty.
Jean Theoret and Dave Villwock flew past King in the first curve and Theoret had the lead coming out in lane one. "We did it!" Theoret said. "It's the first full heat we beat them."
It was a must-win situation for Theoret. If he had lost, his team would not have had enough points to make the final. "We just got some bad water," Villwock said. For Villwock, it was only his second heat loss this season.

Heat 2C Results
1. U-37 Jean Theoret
2. U-16 Dave Villwock
3. U-21 Brian Perkins
4. U-3 Jimmy King - jumped gun, one lap penalty
Heat 3A

The top 12 boats in points make it into Heats 3A and 3B in Seattle and Heat 3A matched up Jeff Bernard in the U-5 FormulaBoats.com against J. Michael Kelly in the U-13 Car Pros. Kelly and Bernard blamed each other for some trouble they had in an earlier heat.
Jeff Bernard in the U-5 took the race this time. "Nice to be out front," he said. "We won two races last weekend and two races this weekend. We're changing our season around."
Greg Hopp was running strong in second place when he went inside to try to take the lead. He hit some rough water from the U-5 and his engine died. He was able to restart. Kelly went wide and zoomed past Hopp and nearly caught up to Bernard. "I was pushing Mr. Bernard," said Kelly. "One more lap and I might've caught him."
Heat 3A Results
1. U-5 Jeff Bernard
2. U-13 J. Michael Kelly
3. U-25 Ken Muscatel
4. U-1 Jimmy Shane
5. U-100 Greg Hopp
6. U-17 Nate Brown

Heat 3B

Jean Theoret did it a second time, grabbing the inside lane and hitting the start line perfectly. The U-37 Beacon Plumbing led the group into the turn and out of the turn. Dave Villwock in the U-16 Ellstrom's Elam didn't seem to have the boat speed he needed to catch Theoret. He finished second.

"Really good boat ride," said Theoret. "Feels really great."

"We've run into problems," said Villwock. "We haven't been able to run the way we wanted." Villwock said they've got to be able to run at the boat's potential and they haven't done it so far on Sunday. "We seem to be having problems getting power out of the motor."
Heat 3B Results
1. U-37 Jean Theoret
2. U-16 Dave Villwock
3. U-6 Steve David
4. U-3 Jimmy King
5. U-10 David Bryant
6. U-21 Brian Perkins

Provisional Heat
Every boat jumped the gun at the start line, so they got to run an extra lap.
Nate Brown took the lead, but Dr. Ken Muscatel was able to hunt him down and pass him up for the win. "It's good to win," said Muscatel. Winning the Provisional got Dr. Ken a seat in the finals, although he will start as a trailer behind the other six boats.

The U-9 crew had worked all weekend to repair the damage from Saturday's flip and got the boat fired up, off the trailer, and on the course. But the engine wouldn't stay hot and kept sputtering. They were unable to get on place by the one-minute gun.

1. U-25 Ken Muscatel
2. U-17 Nate Brown
3. U-21 Brian Perkins
4. U-48 David Williams
5. U-1 Jimmy Shane
DNS. U-9 Chris Bertram



Results from Finals >>