Steve David on the U-6 Oh Boy! Oberto's secret: the boat is much "slippier"
Posted:
Updated: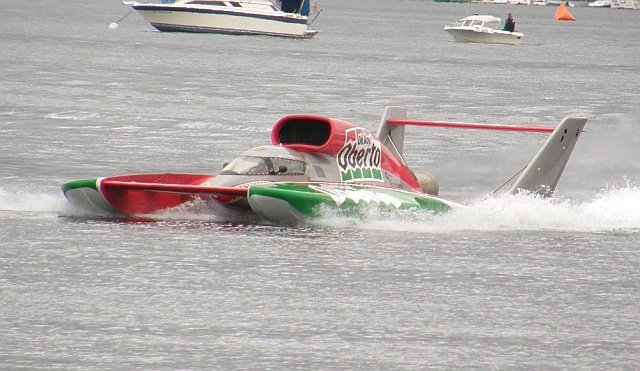 U-6 at Seafair - Photo: Russ McElroy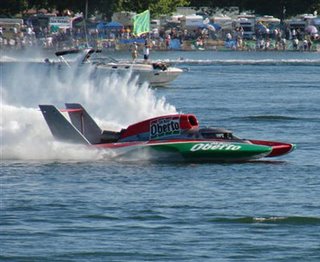 U-6 at Tri-Cities - Photo: Mick Washburn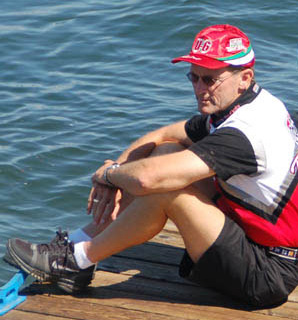 Photo: Jack Lowe
| | |
| --- | --- |
| | "It's much slippier through the water. Slippier is a brand new word we just invented," Oh Boy! Oberto driver Steve David said. |
It's slippier-ness (slippieness?) is the advantage it used at Seattle to take home the Seafair trophy. That, some bad luck by other teams, a great boat, and some last minute adjustments between crew and driver.
"We knew we still had to learn," said Steve David, U-6 Oh! Oberto/Miss Madison driver. "We took a conservative approach (at the beginning of the season). We can't afford to blow this thing over."
With a brand new boat on the line and crew and driver still learning the boat, it made sense to start slow and build. It didn't take long. From a seventh place finish in the first race, to three straight second place finishes, to winning at Seafair.
The goal was increase speed each time out and keep the boat on the water.
"There are four teams that have done an awful lot of damage to their boats. We don't want to be one of those," said David in an interview with WORX radio's Tim Torrance. "We want to win races, set records, and you've got to keep it on the water to do that."
Between the money invested and the work the team puts in, it's a lot of work to get ready for those 5 minutes of heat racing. "You hope you don't make any mistakes," he said.
You learn some little things along the way, and you learn some big things as well. One of those key learning experiences came in Seattle in Heat 2B where the U-10 Hoss Mortgage Investors seemingly came out of nowhere to run down the U-6 and beat them out at the finish line by inches.
"It was a great heat," said David. "We were leading for two laps and 99% percent of the race and he beat us by 6 inches. It was my fault he beat us. "
HOW CLOSE WAS THAT RACE? CHECK OUT THE ANGLE FROM TWO DIFFERENT CAMERAS ON OPPOSITE SIDES OF THE RACE COURSE ON KIRO-TV'S BROADCAST.



David said after the race, he and crew chief Mike Hansen reviewed video and looks at the on board computer and determined he was using too much canard. "The canard is the front wing," he said; "I would use the canard and it would be bouncing on the water and it would be oscillating." The result was a lot of air under the boat intermittently, causing the bounce and slowing the speed.
"What I had to do was use a whole lot less canard and trust the boat would float along without going over," said David. "So by him beating us in that one heat, it allowed us to win the final. I could drive it a lot harder without having to use that canard as much."
In the final heat at Seafair, it did seem the boat got pretty loose. "We got a lot of air a couple of times, but it always came back down."
"I really feel 'at one' with the Oberto now," he said.
The brand new U-6 replaced a 16-year old unlimited hydroplane that Steve David was able to rack up enough points to be National High Point champion each of the last two season. David says she's still got life left.
"I really hope some time that wants to move into our sport ends up is going to end up owning that boat."
David explains there are three primary differences between the new U-6 and the old boat.
It's 700 pounds lighter.

The air trap is a couple of inches wider.
"Square inch wise, that's several hundred inches of lift."

The design itself.
"It's much slippier through the water."

Source: Interview with Tim Torrance & WORX Radio