Yakima concrete plant told to stop production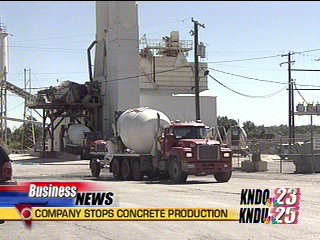 YAKIMA, Wash -- A mining dispute leaves fifty workers jobless and brings local construction projects to a halt.
Central Pre-mix Concrete is stopping the production of concrete because its Toppenish plant isn't allowed to mine for new materials.
The Yakama Nation issued a stop work order at Central Pre-mix's Toppenish mine because the correct permits haven't been issued.
Central Pre-mix says they have applied for the new permits, they haven't been approved yet. They had been working without the permits but the Yakama Nation asked them to stop all mining activity until the permits are issued.
However, the Tribal committee responsible for issuing the permits won't meet for a few more weeks.
"At this point I don't see them trying to speed this up." said Tami Cain, the Operation Manager at Central's Yakima plant. "We've been working with them trying to get a meeting, so we can trying to do something and get our application review sooner. But nothing yet."
The company has run out of sand and rock to make concrete. As a result, 50 concrete truck drives are being sent home without work. Cain is hopeful the permits will be issued by the end of the summer.