LIVE STREAMING in San Diego!
Posted:
Updated: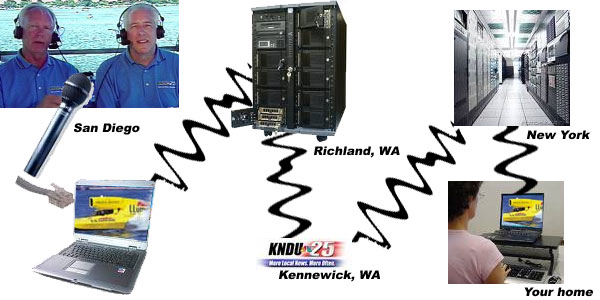 HydroInsider.com will be providing LIVE STREAMING AUDIO of the final Unlimited Hydroplane race for 2007 in San Diego. We'll be patched into the P.A. system and you'll be able to access the stream here Friday-Sunday.

Thanks to Steve Montgomery, who will be handling P.A. duties at San Diego along with Mark Allen, and Sue in the Bayfair office, for making it happen.
Technology's an interesting thing.
We're paying to install a dedicated line into the pits to handle the internet broadcast. Steve Montgomery's taking his laptop and patching the PA audio into the laptop... which gets patched into the internet line. The audio will be transmitted via the internet to a server at Cline Computers in Richland, Washington.
At KNDU-TV, we'll pick up the audio feed from the server, add a graphic (so you know you've found it) and then patch it into our routing system. From there, the signal gets sent by the internet to a massive server farm in New York at World Now. From there, we'll post the link and let as many people view/listen to the feed as they want.
Sounds easy, doesn't it? Actually, it's not all that different from what we've done a number of times... we just usually have video attached.
World Now is one of the world's largest provider of streaming services. We've had in excess of 4,000 people watching a full-blown video feed, so an audio feed should be no problem. We'll find out!
NOTE: Since it's audio from the PA system, you'll only hear audio when there's something going on to talk about. So, if you get the stream and it's silent, it's probably still OK. As long as you see the graphic in the video window, you'll know it's working.
Internet service will be very limited in the pits from what I understand, so your best bet is to listen to get up-to-the-minute news. We'll have summaries and recaps posted as soon as possible. Despite limited internet service, I can still post some stuff on the blog from my cell phone... but if you've tried that, you know it's tough to type much more than a few sentences.