Police arrest five after riot at Gorge concert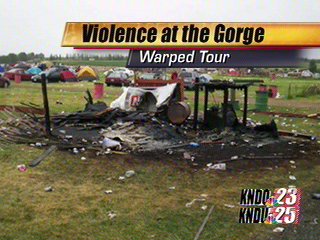 Associated Press - August 20, 2007 7:25 PM ET
QUINCY, Wash. (AP) - Police arrested five people after concert-goers burned portable toilets and threw rocks and debris following a show at The Gorge Amphitheater in Eastern Washington.
Grant County deputies responded to a call that a person was injured in a campground near the amphitheater after the Saturday night concert.
When they arrived, several campers were involved in fights and a "comfort station" with portable toilets and sinks was in flames. Some campers pelted deputies with beer bottles, cans and rocks, and the windshield of a fire truck was shattered by debris.
Authorities from more than 10 area agencies responded to the disturbance.
Five young men from Eastern Washington and north Idaho were arrested and booked for investigation of obstructing a law enforcement officer, disorderly conduct and intimidating a public servant with threats to do harm.
No injuries were reported, but authorities said damages will amount to several thousand dollars,
Saturday's show featured the Van's Warped Tour, which has about a dozen bands, including Poison the Well and Flogging Molly.
Copyright 2007 The Associated Press. All rights reserved. This material may not be published, broadcast, rewritten or redistributed.