Man gets Caught in Milfoil in Columbia River and Drowns
Posted:
Updated: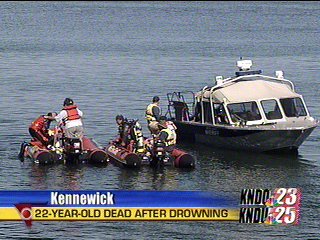 KENNEWICK, Wash - "(Columbia Basin) Dive Rescue did locate a body approximately 10:20 this morning," said Kennewick Police Corporal Chris Walters.
After an overnight and morning search spanning more than 10 hours in the Columbia River, Columbia Basin Dive Rescue recovered the body of an unidentified 22-year-old man. Kennewick police say they received a report of a drowning around 10 o'clock last night.
"The Columbia River has a lot of obstacles," says Columbia Basin Dive Rescue PIO Scott Pattison. Large rocks, concrete, rebar, milfoil, lot's of things to get entangled in."
Authorities say peer pressure from friends caused the man to swim out to a bridge pillar underneath the Blue Bridge, 150 feet from shore. As he headed back, his legs got caught in milfoil, an equivalent to quicksand.
"Your legs get entangled in it and you panic and it starts to pull you down and gets a better hold of ya and you just continue to go down," says Pattison. There's really not a lot you can do about it. If you panic and aren't able to get your legs out."
According to officials, milfoil is impossible to see at night. It's even difficult during the day. Standing on the boat dock, you hardly notice it. But a closer look allows you to see a forest of milfoil. Boaters like Gary Hammond have had experiences with it. He says it can wreak havoc on boats.
"It can block the water intake causing the engine to overheat," according to Hammond.