Hanford workers report symptoms after tank spill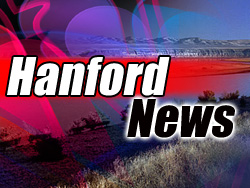 RICHLAND, Wash. (AP) - Seven workers at the Hanford nuclear reservation have reported symptoms they believe resulted from exposure to hazardous chemical and radioactive waste that spilled from a tank last month.
Symptoms included respiratory problems, upset stomachs, headaches, dizziness, eye irritation and blurred vision.
The Energy Department contractor in charge of Hanford's tank farms, CH2M Hill Hanford Group, says it does not believe workers were exposed to enough chemicals to be harmed.
Still, Hanford's occupational health provider, AdvanceMed Hanford, has offered help to roughly 60 people who were in the vicinity of the leak.
The spill occurred after a new pump in a tank got clogged. The tank is 1 of 142 underground tanks holding highly radioactive wastes from the past production of plutonium at Hanford.
Workers briefly operated the pump in reverse, which may have pushed waste up a water line that was not intended to contain the waste.
CH2M Hill believes 115 gallons spilled from the line. The spill was sealed, but a plan must be developed to clean up the material from soil where it spilled.
Copyright 2007 The Associated Press. All rights reserved. This material may not be published, broadcast, rewritten or redistributed.