Unlimited Hydroplane Photographer's Hidden Talent
Posted:
Updated: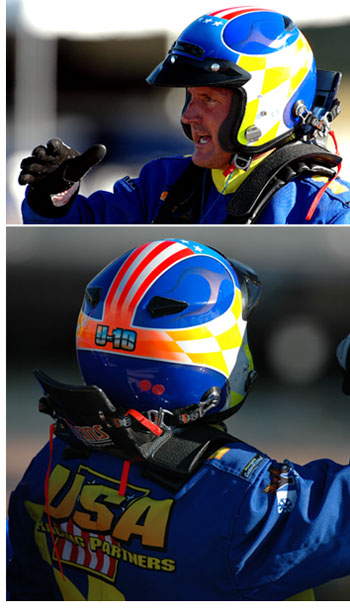 Before 2007 rookie driver of the U-10 Miss Ahern Equipment Rentals David Bryant climbed into an Unlimited Hydroplane for the first time, he purchased a new Shoei helmet. Whether intentional or not, the helmet, like Bryant, wasn't flashy but served its purpose. The helmet came complete with drab gun stock black paint and a white helmet manufacturer's logo across the front.
While fans and the media oohed and aahed over the new U-6 Oh Boy! Oberto, gawked at every piece of rolling stock that Formulaboats.com pulled into the pits, or questioned the color choice of the Superior Racing entry, Bryant quietly and quickly went out and became qualified as an unlimited hydroplane driver.
By Bryant's third race of the season, he had come to form, became more familiar driving an unlimited, and gained trusting in the other drivers around him on the race course. Along with this new found success, when winning his first unlimited heat race Bryant debuted a new paint job on his formerly flat black helmet.
"It took about 4 hours to tape up," said helmet painter F. Peirce Williams. Many in the sport of hydroplane racing might be more familiar with Williams' photography than his premier helmet painting. Williams has been photographing hydroplanes, NASCAR's and anything fast for 26 years. His photography can be seen in RACER magazine, Hendrick Motorsports web site, and just about every hydroplane boat shop has pictures he has taken, framed on the walls.
Bryant's helmet, according to Williams, reflects much of the class USA Racing Partners team it represents. "It is similar to the uniforms but not identical. I designed it to stand out and it incorporates the USA Racing Partners stars and stripes theme from their logo." Williams continued, "Every year Matt Gregory (co-crew chief) puts flames on the boat's paint scheme, so he wanted me to include some flames on the helmet."
Williams put about 12 hours into the design, taping, and painting; his tool of choice --a simple air brush. "There are about 4oz. of color and 6oz. of clear coat paint on his helmet," Williams said. A drastic difference from the gallons used to paint the hydroplane.
"I painted my first helmet when I was 13 years-old. It was a complete disaster! In fact the first few were disasters." Williams said that back then there was no internet or information on painting and the commercial paint shops gave the kid very little help. "It took a couple years before I got it right," he said.
He painted helmets for many go-cart drivers and back then all they wanted was simple pin striping. No fades or shadows, just simple stripes. "I remember doing this one helmet for a friend and it was pretty cool." He didn't like it because it was purple and back then race drivers regarded purple as a "girl's color." He later grew to like the helmet.
After years off from the tape and airbrush Williams is back painting helmets for car racers, Outboard Performance Category (OPC) boat racers and is working on a deal to paint Sara Fisher's helmets, driver in the Indy Racing League Series.
As for Williams he would like to paint helmets for other unlimited drivers but he sees his future in painting helmets for professional car racers because they use a helmet once and then it goes to charity, the sponsor, or to auctions. Unlimited drivers usually use a helmet for a couple years.
Until his helmet painting volume picks up, Williams will be at race courses around the country clicking off the pictures of the drivers for whom he hopes to some day paint helmets.
Source: Owen Blauman, USA Racing