U-6 driver Steve David: "I really feel 'at one' with the Oberto now"
Posted:
Updated: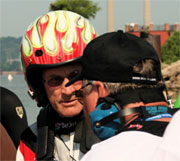 Steve David talks with U-6 Oh Boy! Oberto crew chief Mike Hanson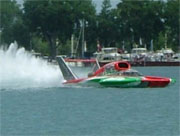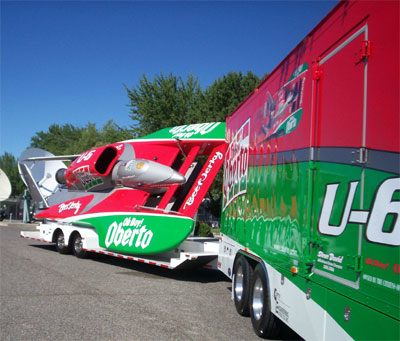 "I think we've got a pretty good setup for San Diego," said U-6 Oh Boy! Oberto / Miss Madison driver Steve David. "We're racing hard. We want to win San Diego."
Part of putting together a win in San Diego is keeping the boat on the water. For David, that means knowing when to push it and when to ease off. "You hope you don't make any mistakes," he said. "Having driven unlimiteds for 20 years now, I've got a pretty good feel for it. But I've crashed as well."
In the finals at Seattle, the boat got "pretty loose - a lot of air under it a couple of times," said David. The key, he said, was that it always came back down.

VIDEO: Watch U-6 win the finals at Seafair >>
Video from KIRO-TV
Breaking in a new boat can take time. The Oberto crew, led by crew chief Mike Hanson, has done a remarkable job of getting the boat up to speed and into the winner's circle. Prior to the win at Seattle, David noted that they've been in the lead in the finals at each race site for at least a part of the race.
In addition, David's been involved in some of the best heat racing we've seen in years. The deck-to-deck battles with Jimmy King in the U-3 in Detroit were a thing to see. "One helluva race," said King.

VIDEO: Watch the U-3 & U-6 go deck-to-deck in Detroit >>
Video from Jack Lowe
In Seattle's Heat 2B, David was leading when David Bryant in the U-10 came roaring back to close a huge gap to overtake the U-6 at the finish line.
Ironically, David said losing that race allowed them to win the finals at Seafair. Here's how in his own words:
"It was a great heat. We were leading for two laps and 99% percent of the race and he beat us by 6 inches. It was my fault he beat us. After the race, Mike (Hansen) said 'What's wrong with the boat and what do we have to do?' KIRO-TV lets us review the video and we looked at the on-board computer and determined I was using too much canard - canard is the front wing - and what it was doing was, I would use the canard and it would be bouncing on the water and it would be oscillating and I'd be getting a bunch of air. What I had to do was use a whole lot less canard and trust the boat would float along without going over."
"So by him beating us in that one heat," said David. "It allowed us to win the final." David said it let him have the confidence to drive a lot harder without having to use the canard as much.
"I really feel at one with the Oberto now," he said.
U-16 Ellstrom's Elam Plus and Dave Villwock have won every other race this year besides Seattle. And it might have been a different ending at Seafair if Jean Theoret in the U-37 Beacon Plumbing hadn't moved in front of Villwock and washed him out in the run-up for the finals.
So, you still have to think the U-16 is the team to beat at San Diego. David said if they're to beat the Elam, it will come down to the intangibles. "At this time, we still don't have the gears and engine parts to beat them heads up, he said.
But he's still optimistic. "I believe we can beat them for other reasons."