Vit Plant Construction Back on Track
Posted:
Updated: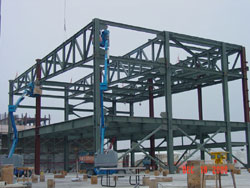 RICHLAND, Wash.- After a two year wait, work on Hanford's Vit plant is finally back to normal.
At long last workers are back on site at two key facilities at the nation's biggest public construction project.
Workers left those areas after concerns came up over how the design of the plant would hold up in an earthquake, now, the Department of Energy says the workers' return signifies that the project is back on track.
In the same spot where the first concrete was poured five years ago, workers are preparing to pour the first batch after the restart.
"It's very exciting, but also we need to be very careful cause I'm very mindful that we were going from about 500 craft to about 1,700," said Shirley Olinger, DOE's Acting Manager of the Office of River Protection.
The move comes nearly two years after seismic concerns halted work on the pretreatment and high-level waste buildings.
The stop left hundreds of workers out of a job. Bechtel says they expect to rehire those workers, plus more, topping out around 3,500 by 2010.
"You don't go from curtailment to full construction in a day, so we went through a very, very detailed in depth review that checked out everything in terms of safety, training, materials," said Larry Simmons, a Project Manager with Bechtel.
But no work yet on the pretreatment building, which isn't expected to restart until year's end.
"This is a great day for the department of energy, for the project team and certainly for the community," Simmons said.
Bechtel expects to be half-way done by the end of next year, but that depends on progress, which doesn't come easy.
The hope now is that renewed confidence from the restart will eventually lead to the finished product.
To commemorate the restart, everyone involved with the project is wearing Vit Plant pins as a symbol. They say "Vit Plant: Taking Pride, Making History.