CH2M Hill Hanford Group Organizes a "Support Our Troops" Campaign.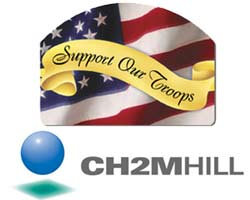 RICHLAND, Wash. - In Hanford news, it's a story of giving and how much a large group of people can make a big difference.
CH2M Hill Hanford Group has launched a "Support Our Troops" campaign. It started just 5 weeks ago and already the companies 1100 employees have raised nearly $40,000 dollars for troops overseas. All that money is going towards, possibly, thousands of care packages for the troops.
This is the first time CH2M Hill has performed such a large and unique campaign so they weren't quite sure how to organize it. They've joined up with A.C.E.S, a local volunteer organization that's been sending care packages to U.S. soldiers since 1990. A.C.E.S volunteers say they weren't expecting an order so large.
"We maybe send 600 boxes at Christmas and 400 boxes to 600 boxes at Valentines Day so we don't send as many boxes as bigger groups do," says Marilyn Stephenson with the American Citizens Encouraging Support organization.
Hanford employees say with the war effort advancing, it's important to support our troops now more than ever.
"Maybe some of the support might not be what it once was when the war effort started, so these people took a look at that and decided to come up with a way to do something nice for these brave men and women who are supporting this country overseas." Said Jerry Long, Chief Operating Officer for CH2M Hill Hanford Group.
A.C.E.S volunteers say they're in need of names and addresses of soldiers overseas. If you know someone serving who could use a care package, send their name and address to info@acescares.org.
Make sure you include their deployment date and the time they will return because it might take up to six months or a year to get the package sent.