U-6 Oh Boy! Oberto win at San Diego featured an experimental prop and a new racing strategy
Posted:
Updated: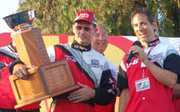 Photo - Jack Lowe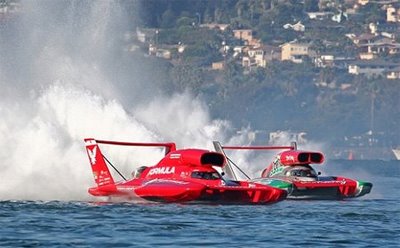 Photo - Walt Ottenad @ NWSpeedShots.com
U-6 Oh Boy! Oberto/Miss Madison driver Steve David and team sponsor Larry Oberto talked with Tim Torrance on WORX radio after the win at San Diego and the wrap-up of a very successful first season for the team's new boat. Here's some of what they discussed during the radio show.
"We broke the course record. 151.4 mph average in the final," said David. That's only 2.5 mph short of the unrestricted record as well. "We've got a rocket ship," he said.
David took second in each of his previous heats and won the final without winning a heat all weekend in San Diego.
"We knew the points (National high Points Championship) were going to the U-16, David said; "so we spent the preliminaries trying to figure out what setup to use for the final.
That set-up included a prop they've been experimenting with throughout the season and the engine they used to win at Seafair. The propeller's lighter than what they'd been running. It's as much as five pounds lighter, so it has significantly more rotational weight and allows the boat to accelerate better, according to David.
"We ran that prop a couple of times this year and kept sending it back to make changes," he said. "It did exactly what we needed this weekend."
David said throughout the season they were looking at specific patterns in testing the prop. "If we don't get the N2 we need, which is the top speed, or N1, which is compressor speed. What we look at is acceleration time from N2 to exit pin and apex to exit."
So after the test, the crew would record the data and send it off to get re-tooled again. "Jim Herring and Mike Hansen really hit it right on the head with this final prop, " said David.
When it came time to the final race, David not only had an experimental prop and a fast engine, but he employed a new strategy to grab the inside lane. Here's how he did it in his own words.
The only way we were going to win that was from the inside. We'd found out in the three second (place finishes) previously that if you weren't on the inside, you were going to lose.

I assumed they were all going to do the same thing they always did, get up the way early and park it. So we were going to lay back, let them get early. I was going to haul buggies past them at about 150, get seven boat lengths and cut over to lane one on the backstretch scoring up, then park it myself. So that's exactly what we did.

Ended up with us in lane one, (U-5 FormulaBoat.com's Jeff) Bernard in lane two.

Not only did it give us lane one, but it kind of messed up everybody's timing because no one would suspect somebody would take the risk of leapfrogging. I was pretty confident it would work.
David's only worry was when he backed the boat down to idle, there might be a problem, but that turned out not to be a problem at all.
The strategy isn't something he could have done with the old U-6. "You had to make a fast start (with the old boat) and it really couldn't go below 65. And there's no way you could grab an inside lane with that, " said David. "With this boat, if need be, I can drop it down to about 25. "
David and Bernard battled it out deck-to-deck for most of the race. The boats even touched briefly. Fans on the shore got a great show. In the end, the Oberto carried the day.
"That was a brilliant race," said team sponsor Larry Oberto. "Steve and Jeff just really hung it out there. It was beautiful to watch."
With the U-6 Oh Boy! Oberto winning the final two races of the season, it sets the stage for some excitement for next year. The crew probably didn't want the season to end now just when they seem to have things dialed in.
"I'm quite confident that if we stay wired like we are now," said David; "we're set to win a bunch of races next year."