Signs and tips for caregiver burnout
Posted:
Updated: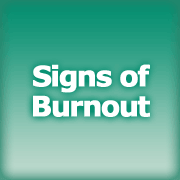 Signs of Burnout
Caregivers are at increased risk of depression and other symptoms of distress. Perhaps you feel guilty because you think you aren't doing enough, and you're frustrated that you can't do more. If you're feeling depressed, anxious, or overwhelmed, that's understandable - this is a difficult time for you...and help is available.
The symptoms of burnout are very similar to those of depression. In fact, the two conditions often contribute to one another. Are you experiencing:
Persistent symptoms of depression
Constant anxiety, irritability, or anger
Feelings of detachment, numbness, or exhaustion
Continuous self-criticism
Withdrawal from usual activities
Negligence or hatred of caregiving responsibilities
Trouble at work or in relationships
Substance abuse
A recent study in the Journal of the American Medical Association has shown that seniors providing care for an ailing spouse are likely to become sick more often and experience more stress than similar people who aren't caregivers. Make sure that you get regular medical checkups. If you have any symptoms of depression (extreme sadness, trouble concentrating, apathy, hopelessness, or thoughts about death), see a doctor right away. Depression is an illness that can, and should, be treated.
TIPS for Caregivers
Taking care of yourself while caring for others
Schedule regular afternoons or evenings out.
If you can't leave and friends can't come over, take time each day for a phone conversation with a friend or family member. Even a brief chat can lift your spirits.
Eat nutritious meals. Don't give in to stress-driven urges for sweets or drink too much alcohol.
Get enough sleep. If you are kept up at night, try a nap during the day to make up some sleep.
Exercise regularly, even if it means finding someone else to provide care while you walk or go to exercise class.
Make a list of jobs you need help with and seek out someone to assist you. This could include household chores, home repair or maintenance, driving, paying bills, or finding information on services you need.
If possible, arrange for adult day care for your loved one. This will you give you time for errands and personal time as well as provide health monitoring, transportation, nursing care and therapeutic recreation for your care recipient.
Join a support group. You don't even have to leave the house for meetings. For homebound caregivers, Internet-based support groups are a blessing.
Draw strength from your faith. Even home visits from a member of your church or synagogue are a way to keep you in touch.
Take time to pamper yourself. Take a warm bath, light candles...find a time to relax each day.
Plan a weekend getaway or a weeklong vacation.
Hire a temporary caregiver from a respite care program.
Source: Helpguide.org