Rubber Sidewalk a Surprise in Pasco
Posted:
Updated: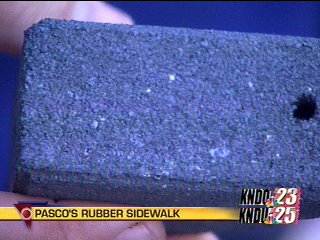 PASCO, Wash.- An unusual step toward environmentalism in Pasco.
The City of Pasco has a new rubber sidewalk with tiles made from recycled tires.
The City already plans on testing another piece of pavement with the thick rubber tiles, and if that works well like the first spot has, don't be surprised to see them start popping up in trouble spots around downtown.
It's not your average piece of pavement.
"This is really neat, it's soft and cushiony," said LaWana Van Dinter.
It's on a one block strip of sidewalk on Lewis Street where tiles made from tire-crumbs are replacing the usual cement covering.
Van Dinter owns the library tavern, where customers await a surprise when they arrive.
"Oh, they love it, they go, what is this? and I says well we were told that it is rubber cement, and that's what they were going to put in and we waited to see what rubber cement looked like," she said.
Van Dinter first introduced the idea to the City because tree roots were breaking the pavement and creating a safety hazard.
"They're doweled in between, and that's how they hook in together, they're, we've go gaps in here for expansion and cushioning," said Dan Dotta with the City.
It's an attempt by the city to avoid age-old problems like tree roots that constantly force repairs.
"It allows the roots to expand and not create a trip hazard," he said.
The new sidewalk is also environmentally safe, made completely from recycled tires, and it allows trees to continue to grow, rather than the City cut them down.
For locals though, it's the safety factor that's important.
"This is really great, I think it'll be great in the winter time you know," Van Dinter said.
A liability erased, and no more tripping.
City officials say they got the idea from the City of Olympia where a similar method has proved successful around tree roots and relieved the City of the liability involved if someone were to trip and file a lawsuit.