Vista Field Airport In Kennewick May Be Closing
Posted:
Updated: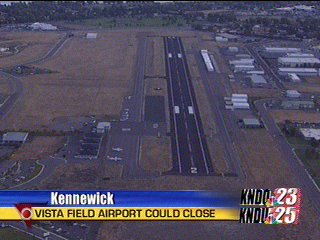 KENNEWICK, Wash. - Port of Kennewick leaders are questioning whether or not the Vista Field Airport should remain open, and now airport officials and pilots are speaking out against the closure.
The Vista Field Airport was built back in the World War II era and is now owned by the Port of Kennewick. A few dozen pilots use it's runway right now. One works with UPS, a company who built it's operations center next to the airport for fast delivery.
"It's always a time factor for UPS. They want to make sure everything gets done now," says Alpine Airlines Pilot, Subcontractor for UPS who brings in all UPS shipments by air to the Tri-Cities.
But that could become difficult if the Port of Kennewick shut's down the runway.
"The airport has been losing several thousand dollars a year in operations so it's not really a money maker as it sits now, " Tim Arntzen, Executive Director for the Port of Kennewick.
Vista Field Management tells me they could bring in more money to the port if commissioners would allow them to bring in more planes and pilots. But commissioners aren't ready to open the door to the idea of expansion.
The Airport's Operator Ben Tuttle says he's in a catch two situation. "The list goes on and on and on of the people that use this and bring money into our community, and that's why I say, they're not basing their decision off logic they're basing it off their personal financial growth."
Other pilots and businesses that use the airport say the closing of the airport will force them to take they're business out of Kennewick and over to Richland or Pasco.
Drew says the closing of the airport will be a big problem for UPS. "It's a multi-million dollar company that is bringing money into the community. If the airport leaves they will have to leave. It's pretty simple."
The Port of Kennewick Commissioners say they hope to make a decision within 90 days.