Fever Coach in Jail on Felony Charges
Posted:
Updated: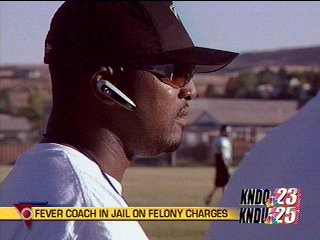 KENNEWICK, Wash. - Tri-Cities Fever coach Tony Wells has been arrested and jailed after Kennewick police found he had two outstanding felony warrants in other states. He's being held without bail on the charge of being a "fugitive from justice."
Early Sunday morning, Wells' ex-girlfriend called police saying she heard someone inside her house. Police showed up and found Wells. They then discovered he had a felony warrant in Florida for dealing stolen property, and a felony warrant in Kentucky for fraud. They arrested and booked him on the charge of being a fugitive from justice. Police tell KNDU's Scott Reister that Wells cooperated, and that he'll be held in jail in Kennewick until prosecutors from the other states work out an extradition plan.
Last month, Wells signed a contract to coach his second year with the Fever. Fever G.M. Randy Schillinger was sorting through the details on Monday night.
"We have to wait to get the facts, and see what those, are and make a decision based on that," said Schillinger.
Fever Spokesman Bob Mangione elaborated: "AF2, our ownership and the Tri-Cities Fever football team prides ourselves with the maintaining integrity and character on and off the field. No one is above the law. We hold firm in the time honored statement in our country of innocent until proven otherwise. Our thoughts and prayers are with head Coach Tony Wells. It grieves us personally in this very trying time."
Assistant Coach Cleveland Pratt was shocked by the news. "He's never been in any kind of trouble," he said. Pratt also said he thought Wells and his girlfriend we're living together.