Unlimited Hydroplane racing in Nashville in 2008 looks promising
Posted:
Updated: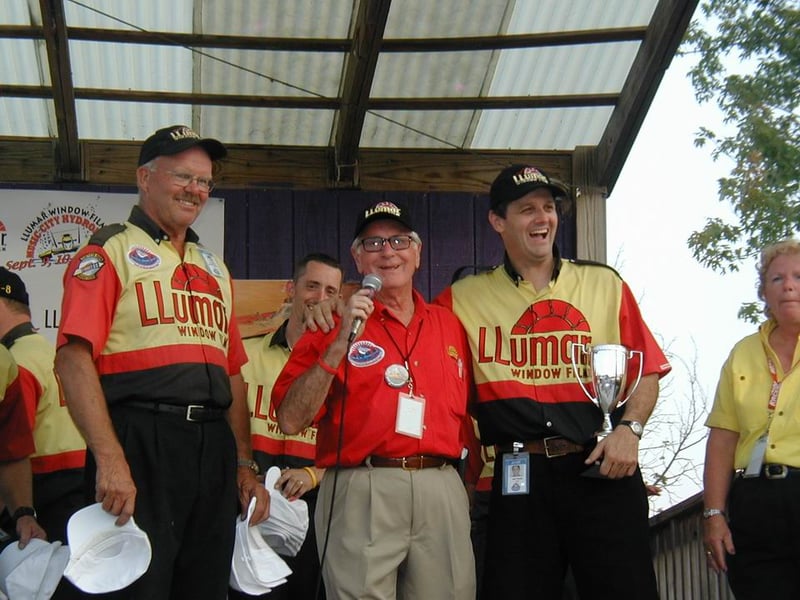 Bill Wurster at the microphone with the U-8 Llumar team after winning the Nashville race
"My feeling is my sport's going to die if we don't get more races," said Rick Bowles, team manager for the U-3 team. And he's doing something about it. Rick's formed a company called Boat Racing Venues, Inc. that's trying to privately put together race site packages.
In most communities, it's a mostly all-volunteer community organization that puts on the races. If that organization doesn't already exist in a community, it's pretty difficult to start it up from scratch. So Bowles has put together an umbrella organization to do that for a race site. The catch? It still comes down to local funding.
"Without having a million dollars in my pocket," he said. "It's tough to guarantee anything."
In his sights right now is Nashville. He's formed a Limited Liability Corporation, Boat Racing Nashville, LLC and they're talking to potential local sponsors now. "I'm pretty positive that's going to happen," he said.


"We have a contract in place.
We have dates.
A deposit has been paid."

-Rick Bowles, Boat Racing Venues, Inc.
The dates would be early in the year, some 8 weeks before Evansville. "Being stuck out 8 weeks prior might be an issue," said Bowles. "I've talked to some owners and they've said we need to be there no matter what."
Hydroplanes have been in Nashville before. The first year didn't draw big crowds. "Maybe 2,700 people," said Bowles. The challenge is introducing, or in this case, re-introducing boat racing to a new audience. "How do you get people to come to an event when they don't know what we do?" he asked.
It's just not on the radar screen for most people. "There's so little interest in this sport," he said. "If you compare it to throwing a rock in the water, it's not even a ripple." To get the ripples going, Bowles pledges a substantial marketing budget in Nashville to promote the race, focusing on pre-sales of tickets.
He's also working now on an exhibition event prior to the race - possibly in April, of 2008. Possible participants include the U-3, U-6 Oh Boy! Oberto, and the FormulaBoats.com team. All to try to drum up support for the event and potential sponsors. "That's what the test is all about," he said.