The U-22 Webster Racing team gets closer to a 2008 unlimited hydroplane debut
Posted:
Updated: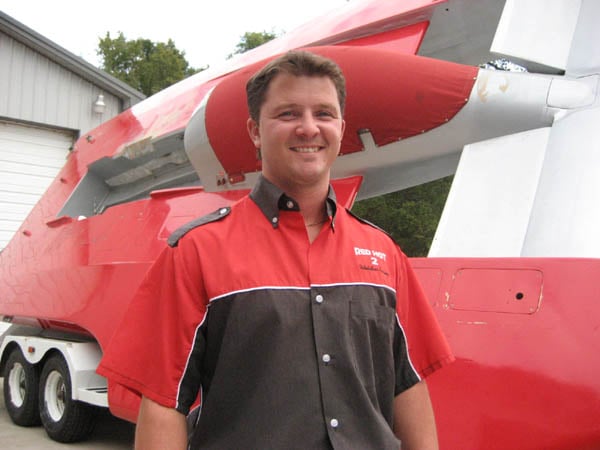 Mike Webster & the U-22 hull in Indiana (PHOTOS - Kirk Duncan)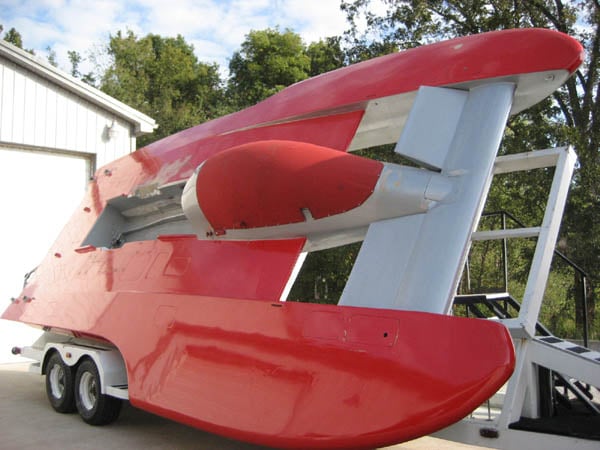 NEW VIDEO: Mike Webster, Ed Cooper talk (Kirk Duncan) >>
UPDATED OCT. 16th - Video shot when Webster picks up the hull from Cooper in Evansville, IN
Mike and Steve Webster left late Friday afternoon from Evansville with their new U-22 in tow. Steve (Mike's dad) drove the new team hauler completed in Seattle to Ed Cooper's shop in Posey, Co., Ind.
Mike made the 12 hour trip from Reading, PA. Thursday to meet his dad and complete the birth of a brand new unlimited hydroplane team for 2008.
Mike Webster and the Webster Racing team had acquired Ed Cooper, Junior's second unlimited hull and is in the process of re-building the piston boat to run with a turbine engine for the 2008 ABRA season.
"We're going to put it on a massive diet," said driver Mike Webster. "We need to save a lot of weight."

VIDEO: Mike Webster Interview (Kirk Duncan, Mike Fetscher) >>
Webster's no stranger to boat racing. The Reading, Pennsylvania native has driven unlimited lights boats and made a name for himself as a National Modified driver. He started racing J Stock outboards at age 10 and won his first national championship in a 1.5 litre at age 15.

View Webster's complete racing biography >>
"We won a few national championships in the National Modifieds," said Webster. "Last year we moved up to the unlimited lights."
They sold the unlimited light hull and bought the Cooper hill that ran from 1998 until 2002. It's the familiar red boat with the Master Tire logo on the side and last run with one of Cooper's Allison piston engines.
The team has three sponsors on board so far: Mas Epoxies, Deka Batteries, and Van Industries.
"It's been a lot of fun so far," said Webster.

Webster Racing website >>