Racing duels could be in unlimited hydroplane racing's future at Firebird Lake in Arizona
Posted:
Updated: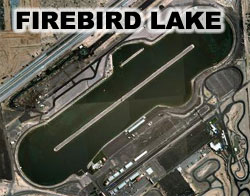 "I'm trying to put together a deal in Firebird," said U-3 team manager Rick Bowles and the man behind the Boat Racing Ventures, LLC that's trying to secure deals for new race sites. "Just need money and approval."

Firebird is in the Phoenix area and - because of the race site - would feature duels like in Valleyfield, where two boats go head-to-head against each other and the clock. "The duels (in Valleyfield) were really exciting," Bowles said. "More exciting than everybody thought they would be."
The course is about 150 wider and more symmetrical than Valleyfield, he said. The Unlimited Lights are planned to do an exhibition there in November.



READ MORE about Lights exhibition >>
The first event might just be an exhibition. And it might feature night racing. Bowles said he's got a company that says they can light up the course and the boats for spectators. But he's not sure that's realistic.

But he is pretty positive the sport's going to have more race sites. The deal for racing in Nashville, which Bowles is putting together, is reportedly about 99% done.

FULL STORY on Nashville race site >>
And there are other events in the pipeline. "I was working with Syracuse, NY but they want to hold off until 2009."
Boat Racing Ventures is coming at this from a different approach. The established race sites are part of festivals run typically by a few business folks and lots of volunteers. In communities where that structure doesn't exist, Bowles hopes to get the permitting and logistics work done, from local groups and go out and raise sponsorship dollars.
"We at least want to get it up to 9 events," he said. "We really need to get to 12 to get to a national sponsor and make a legitimate pitch. 16 would make it a legitimate national sport."

So the hunt for sites and deals continues. "We've got some things working in Texas, Syracuse may come back, some stuff in the Bay area," he said. "Lots of things working."