Solo Releases Statement, Misses Exhibition Game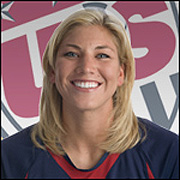 CHICAGO (October 13, 2007) - The following is a statement from U.S. Women's National Team goalkeeper Hope Solo in advance of the USA's three-game tour following the team's third-place finish at the 2007 FIFA Women's World Cup.

Statement from Hope Solo:

"I would like to apologize to my teammates, coaches and everyone else adversely affected by my comments at the Women's World Cup. This public apology comes later than it should have, but I hope that does not diminish the fact that I am truly sorry. I made a mistake and I take full responsibility for my actions. I let my teammates down and have lost their trust.

"I would like to especially apologize to Greg Ryan and Briana Scurry. There is no excuse for insulting a coach or a teammate. My focus now is solely on reconciliation with the team. I am here to support the team for these games, but after apologizing in person to all my teammates and the coaches, I have made the choice not to suit up for these games since I believe this is the first step in the healing process.

"As I work to regain the team's trust, I will not be making any more public comments at this time. The healing process has started, but I understand that I have a lot of work to do with my teammates and that is my focus moving forward."
Solo was on the roster but did not dress out in Saturday's exhibition game against Mexico. It is unclear if she will play Oct. 17th in another exhibition match agaisnt Mexico. That match will be held in Portland.