Fever Fires Coach Tony Wells
Posted:
Updated: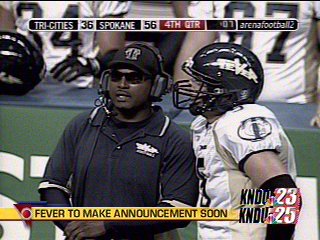 KENNEWICK, Wash. - Tri-Cities Fever owner Doug MacGregor fired coach Tony Wells Tuesday, saying Wells' uncertain legal future was too much for the team to be burdened with. Wells faces a possible out-of-state court battle and possible jail time. Wells claims his innocence.
The team was not able to gather all the facts before making a decision, but with players being recruited by other AF2 teams and tryouts coming, MacGregor couldn't wait any longer.
"I feel bad that we had to make a judgement on incomplete information," MacGregor said.
At a press conference Tuesday, team spokesman Bob Mangione added: "We needed someone in the leadership role. it's unrealistic to expect Tony to fill that role. The dragging on process could take weeks, months, who knows how long. To have such a formidable distraction at this time takes away his ability to lead this team. We need leadership ASAP. We can't provide that through Tony at this time, so a change has been made."
Tuesday's announcement ended two weeks of speculation on what the Fever would do about Wells, who faces an outstanding felony warrant in Florida for possession of stolen goods, and one in Kentucky for fraud. He was arrested October 7 when Kennewick police discovered the warrants during a background check.
At the time of the arrest, the team said they'd gather all the facts before making a decision. However in the end, it wasn't the facts, but the timing that cost Wells his job after just one season.
"We didn't have enough facts or criminal information, so this is based exclusively on the need for a coach . We weren't prepared to send him down the river just to save face if you will. But the decision now just comes down to we need someone in that leadership role and he couldn't be counted on in one-hundred percent capacity to effectively lead this ball club from a coaching standpoint. The games don't start until March, but this is a heavy recruiting period."
Wells has not returned our calls, but he reacted professionally when Fever G.M. Randy Schillinger spoke with him.
"He was cordial, said nothing vindictive in any way," said Mangione.