Pacific Northwest University of Health Sciences Names New President
Posted:
Updated: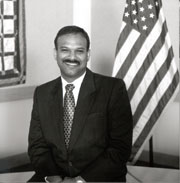 YAKIMA, Wash. - A well-known and respected figure throughout the Northwest was announced Thursday as the new president of Pacific Northwest University of Health Sciences (PNWU), the first medical school to be built in the Pacific Northwest in more than 60 years.
Stan Flemming, D.O., M.A., an army general and family practice physician from University Place, Wash., will lead the new osteopathic medical college as it gears up for its first class of 70 students in 2008.
"We are delighted that Dr. Flemming has accepted the Board's invitation to lead PNWU in this next important phase of development," said Paul Emmans, D.O., Chair of the Presidential Search Committee of the Board of Trustees. "Stan brings credentials of the highest caliber, and we are certain he is the right person to continue excellence and world-class leadership in the coming years. Each of our top three finalists offered outstanding qualifications to lead a university. We were honored to receive a remarkable number of highly accomplished applicants."
A brigadier general with the United States Army, local elected official and former state legislator, Flemming is a decorated combat veteran and dedicated public servant. He was elected the first mayor of the City of University Place and has been a city council member there for 12 years, currently serving as mayor pro tem. Additionally, Dr. Flemming served in the Washington State Legislature representing the 28th District. In 1995, he was one of the top two candidates on the President of the United States' Short List for Surgeon General, the first osteopathic physician to be considered for the position.
Dr. Flemming served as chairman of the board of the Evergreen State College, a governor-appointed board position. He has volunteered his time and talent to numerous civic and charitable organizations including Rotary International, Communities in Schools Program and Tacoma Musical Playhouse.
"My vision is that we establish and build a university that is student-centric; an institution of higher learning that will recruit and retain the brightest and best faculty, administrators, and students,"
Dr. Flemming said. "PNWU will maintain high standards of quality and excellence in education and will be a standard bearer within the profession and throughout the region."
A prestigious senior executive and board-certified osteopathic physician, Dr. Flemming was in private practice for 16 years as a specialist in family practice, adolescent medicine, aviation medicine, and HIV/AIDS related diseases, primarily in the Puget Sound region. He is a seasoned and respected medical leader, having served as the chief medical officer for a number of physician organizations over the past decade, including: Northwest Physicians Network, Puget Sound Health Partners, My Office Partners, Physicians Health Network, and the Community Health Clinics in Pierce County. Dr. Flemming also serves as Chair of the Family Medicine Department for St. Joseph Medical Center in Tacoma.
Dr. Flemming received his undergraduate degree from the University of Washington, his master's degree from Pacific Lutheran University and his medical degree from Western University of Health Sciences in Pomona, Calif. He completed his family practice residency at Pacific Hospital of Long Beach in Long Beach, Calif. and a fellowship at The Children's Hospital of Los Angeles and the University of Southern California School of Medicine.
"Leading PNWU is an important opportunity to address our serious physician shortfall as well as realizing my vision for our profession in the Pacific Northwest," said Dr. Flemming. "I have been in academia for the past 27 years as an instructor, associate professor, and a chairman of the board of trustees. For many years, I have been committed to the training of health care professionals and have been outspoken on my vision to see the osteopathic medicine profession expand in the Northwest. At a time when the Northwest is experiencing a severe shortage of physicians in all specialties, but most notably in primary care, it is crucial to establish a medical school that will help meet those needs."
Fred Tinning, Ph.D., has served as interim president, leading the university toward state and national accreditation, fundraising on behalf of the university, and conducting a nation-wide presidential search on behalf of the Board of Trustees.
"Fred Tinning has done a remarkable job leading the institution to distinction in the American osteopathic profession," said Lloyd Butler, D.O., Chair of the Board of Trustees. "His leadership as interim president has been outstanding. He came to us from retirement after serving 13 years as president at the founding Osteopathic Medical College in Kirksville, Mo., and having served over 37 years in leadership positions in the osteopathic profession. Dr. Tinning's leadership has been a tremendous gift to PNWU. We wish him well in his return to consulting in the osteopathic medical education field."
"It has been an honor to serve," said Dr. Tinning. "I wish Stan the very best as he leads the university in the coming years. It has been a tremendous opportunity to serve PNWU, as its top priority is to prepare primary care osteopathic physicians for the medically underserved rural areas of the Pacific Northwest. The work we are doing today to establish the medical school will provide highly trained physicians in the states of Washington, Oregon, Idaho, Montana and Alaska-and throughout the United States. The college will offer a rigorous, four-year medical degree program to train primary care physicians."
Since receiving provisional accreditation in August, PNWU has received more than a thousand applications for its first class of 70 students starting in the fall of 2008. Construction on the 60,000-square-foot, state-of-the-art medical school is on track to meet the university's scheduled opening. The two-story facility is located on the university's 42-acre site in Yakima.
The university has received provisional accreditation from the American Osteopathic Association, Commission on Osteopathic College Accreditation and has been granted the authority to confer the degree of Doctor of Osteopathic Medicine by the Washington State Higher Education Coordinating Board.