Military families thankful for community support
Posted:
Updated: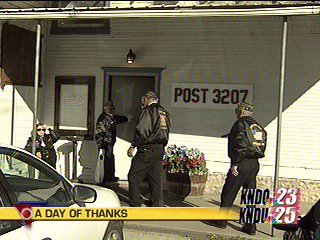 Posted: November 10, 2007 7:45 p.m.
Prosser, Wash.--At the Veterans of Foreign Wars (VFW) 3207, retired servicemen and women were deservedly in the spotlight today.
"We showed our appreciation for all the veterans in Prosser and I hope they give us more support in the future," says Frank Kreis, retired U.S. Army.
"It's nice to have the community come out and support our veterans that have been active duty and those of us that have served in the past," mentions Commander Robert Travaille.
And in a small town like Prosser, military families like the Childers are grateful.
"I think this little town of Prosser is very, very supportive of all the servicemen and women that are in the service in this town," says Dolores Childers.
Dolores should know. Her 18-year-old son Kenton graduated from marine boot camp last month.
"He graduated at such a top of his class, not the very top, but I would say at least a number five or four out of 600 marines, and it's just very impressive," says Childers.
After graduation, Kenton came back home for 17 days. But his stay was too short, according to his sister Kolby.
"Hopefully, he'll come home and i can see him again," says Kolby Childers.
Being 17, Kenton needed his parents permission to enlist in the Marine Corps. A decision the whole Childers family proudly represents.
"We support him 100 percent, says Dolores Childers." And just very, very proud of being a marine parent.