Another Unlimited Hydroplane boat may be racing in 2008
Posted:
Updated: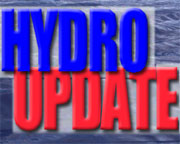 Kirk Pagel, in the recent ERCU newsletter, reports the plan for the second hull that U-48 team owner Greg O'Farrell bought from Fred Leland ("Lucky") will have its own U-number (still undetermined) and have its own crew. It will be painted with a red, white and blue theme. Also, O'Farrell bought out his partner, Jon Cheetham.
At the same time, there are some tidbits to report on other race teams this off-season:
U-37 Beacon Plumbing
The U-37 Beacon Plumbing team has decided it's not realistic to build a new boat for the 2008 season. While Schumacher racing would certainly like to get a new hull in the water, there's just not time to do it right, so the decision has been postponed for the foreseeable future.
U-1 Elam
The U-1 Elam team is looking at building a new hull for the 2010 racing season, according to Erick Ellstrom. They have not decided at this time whether it will be a turbine engine for the power plant. They are considering other options, but advances in technology will play a major role in the decision.
U-100 MirageBoats.com
"Hopefully, we'll get a new boat for next year," U-100 driver Greg Hopp said earlier this year. There won't be a new boat for 2008, but MirageBoats did renew its option for a multi-year deal and will continue its sponsorship for the '08 season.
Leland finally gets cash settlement from Znetix Corporation
Kirk also reports that the Znetix Corporation finally settled up with Fred Leland. They owed money from their sponsorship package, which was tied up when the company filed for bankruptcy.
Editor's Note: Znetix founder Kevin Lawrence is serving a 20-year prison sentence after he was found guilty of three counts of conspiracy, wire fraud and securities fraud. According to the Seattle Post-Intelligencer, federal regulators described the case as the largest stock swindle in the state of Washington's history - more than $100 million dollars.