Wounded Soldier, Evan Mettie, reunites with Selah family for Thanksgiving
Posted:
Updated: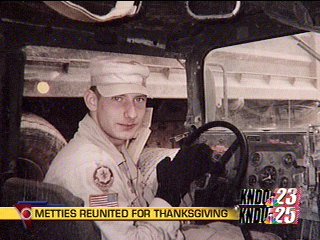 Selah, WA - It's so easy to take Thanksgiving for granted. All the cooking or the driving can be a big hassle. But a local family reminds us about what to be thankful for.
The Metties were the picture perfect family. And today, if only for a few hours, they were back together again in their Selah home.
"We rolled him into here. Looked down and he had a big tear coming down his eye," says Denise, Evan's mother.
David and Denise Mettie say it's been a two-year struggle to get their son well enough to come home again.
"I can hardly describe it. It's an indescribable feeling," says Denise.
"We're learning our whole family tradition all over again," says David, Evan's father.
New Year's Day, 2006... Specialist Evan Mettie suffered a traumatic brain injury that left him almost completely paralyzed. He has to blink with his eyes now to communicate.
Evan's parents have spent months apart over the last two years.
David stayed behind with their two daughters.
Denise was with her son at hospitals in Seattle and New Jersey.
"There were times when we thought we were going to lose him," says Denise.
But Evan persevered.
He's been moved now to the Garden Village Rehab Center in Yakima.
David and Denise felt comfortable enough to bring him home for the first time today to enjoy Thanksgiving Dinner.
"Having someone removed from the family, potentially forever, and then to get them back, that's a real eye opener," says David.
Evan could only spend about four hours at home before his parents had to take him back to Garden Village.
The Metties are planning to build an extra room on to their house so he can live at home permanently.