Bill Doba Will Not Return as WSU Football Coach
Posted:
Updated: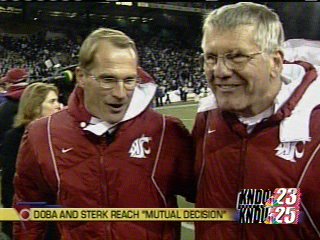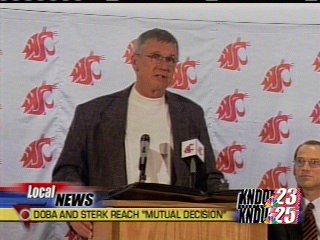 PULLMAN, Wash. - 67-year-old Bill Doba is out as the Washington State football coach.
The official announcement came this afternoon at a news conference in Pullman, two days after Doba coached the Cougars to an upset Apple Cup victory over Washington in Seattle.
Doba is gone after a 5-7 season in which Washington State missed going to a bowl game for a fourth consecutive year.
In what was billed as a mutual decision, Doba and Director of Athletics Jim Sterk said Doba decided during a meeting this morning that he would step down.
Doba today blamed widespread speculation that he would be fired with damaging his ability to recruit, and said he wanted to take a break after four decades of coaching.
Doba said he had no animosity toward Sterk or first-year WSU president Elson SW. Floyd.
When a reporter said he doubted Doba had agreed to resign, Doba said: "that's your problem."
Doba insisted all last week that he no intention of resigning.
In his five seasons as the head coach at Washington State, Doba compiled a 30-29 record, including a 3-2 mark in Apple Cup games.
Doba did not become a head coach until the age of 62, when he replaced Mike Price.
Doba's best season was his first, when the Cougars were 10-3 in 2003 and beat Texas in the Holiday Bowl.
The following years the Cougars were 5-6, 4-7, 6-6 and 5-7. He was 17-25 in Pacific-10 games.
His 2006 team was 6-3 and ranked 25th in the nation, but lost its final three games to miss a bowl.
Doba's salary is more than $500,000, but he is among the lowest paid coaches in the Pac-10.
The status of the future of Doba's staff is unknown. It would cost the university about $2.8 million to honor the contracts of Doba and his assistant coaches.
(The Associated Press contributed this story.)