What's Working - Tourism in the Yakima Valley
Posted:
Updated: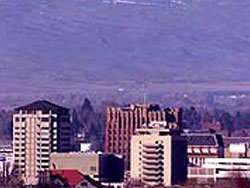 Yakima, WA - What's working to boost the economy in the Yakima Valley?
A recent study says tourism is providing a big boost.
The study was conducted for Washington State Tourism and its report says that last year visitors to Yakima County spent a record $307.1 million.
Yakima County has seen visitor-spending increase almost 9% from 2005 to last year, and 30% since 2000. That's more than 70-million dollars.
So where is all this money going?
According to the state tourism study the lion share, almost a third, goes to ground transportation and fuel, $73.5 million goes to food and beverages and another $42 million to retail sales.
"One of the advantages you have when you attract visitors is that the amount of taxes you create for the community is far larger than the service you require," says Jon Cooper, CEO and President of the Yakima Valley Visitor's and Convention Bureau.
Cooper says there are three main components to tourism in the county; wines, amateur athletics and conferences and meetings, many which happen at the convention center where he works.
"We are currently eighth in the state in visitor spending out of 39 counties. We could still become seventh. I think we need to look in the future as far as how we position ourselves in the branding process. How are we perceived, as well as continually developing the product," says Cooper.
Along with generating important tax dollars for Yakima County, the study say 3,370 people are employed in travel and tourism.